Collaborative development of ICT content
by Felrose Magalso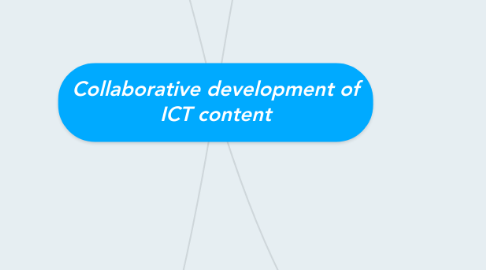 1. Team structure and dynamics for ICT content
1.1. - aims to discover the ways such tools can enhance communication and, implicitly collaboration, of intercultural virtual and hybrid teams, at their early stages of group development.
1.1.1. The literature review
1.1.1.1. - highlights the most important culture and virtual environment related issues, which trigger the necessity of ICT tools' use
1.1.2. The empirical segment
1.2. - promotes the choice of an ICT tool for two different project groups, based on their communication and collaboration needs
1.3. ICT tools can improve the quality of the incipient phases of group development
1.3.1. communication is encouraged and facilitated regardless the implemented communication model
1.3.2. meetings' efficiency is increased; workflow is improved by work synchronization and awareness
1.3.3. client communication and collaboration is favored
1.3.4. adoption of new members is streamlined and the impact of direct interaction's low extent is alleviated.
2. Online collaborative tools and processes
2.1. "An application software designed to help people involved in a common task to achieve goals. " - Wikipedia
2.1.1. Slack
2.1.1.1. enables project development to move forward more smoothly
2.1.1.2. helps reduce email and meeting times, keeping all team communication in one place
2.1.2. InVision
2.1.2.1. a web-based and mobile app that turns your designs into fully active prototypes with gestures, transitions and animation
2.1.3. Google Keep
2.1.3.1. a fantastic way to share lists and ideas (or keep them to yourself)
2.1.4. Trello
2.1.4.1. this project management tool is like a magical customisable to-do list on a single interface, which you can share with others in real-time
2.1.5. Appear.in
2.1.5.1. a conversation app that allows up to eight people in a chat room, with no login or downloads required
2.1.6. ConceptBoard
2.1.6.1. an instant whiteboard tool for teams and projects where creative designers can reap benefits by using this tool to collaborate as well
2.1.6.2. it's optimised for creatives and is more like a one-stop solution for crafting concepts, managing projects, and providing feedback at any time
2.2. "A collaborative working environment supports people in both their individual and cooperative work thus evolving into a new class of professionals, e-professionals, who can work together irrespective of their geographical location."
2.2.1. Proofhub
2.2.1.1. enhances organization in learning projects, but significantly improves communication and collaboration among distantly located members of a learning group
2.2.2. MindMeister
2.2.2.1. enables groups to do planning or brainstorming on one mind map document during the early phases of group work
2.2.2.2. groups can also use the document for collaborating during the course of a project as per the nature of their assignment
2.2.3. Googgle Docs
2.2.3.1. facilitates creation of meaningful documents
2.2.3.2. documents can be written, edited, collaborated upon and accessed from any remote location at any time and from various devices
2.2.4. BigMarker
2.2.4.1. facilitates communication among learning group members through webinars
2.2.4.2. webinars can be flexibly conducted from any location at present or in the future
2.2.5. SlideRocket
2.2.5.1. attractive and engaging presentations can be created with this web based presentation tool and can be accessed from anywhere.
2.2.5.2. members in a learning group can collaboratively work on one presentation document
2.2.6. Skype
2.2.6.1. offers video chat facility for improved communication and  aid's reliability and ease of use makes it a preferred choice for remote collaboration
2.2.6.2. boosts online group learning, instructors can conduct video meetings with groups, and they can also conveniently discuss progress or concerns with individual students through video meetings
2.3. Online Collaboration Software as a software application, platform or tool that is delivered as Software-as-a-Service (SaaS), or cloud, and contains a number of capabilities within one platform, either built directly in, or integrated with other applications.
2.3.1. Ideaflip
2.3.1.1. makes it easy for your team to quickly turn thoughts into ideas, share and refine them – whether they're in the same room or on the other side of the world
2.3.1.2. perfect for group brainstorming and individual ideas
2.3.2. BinFire
2.3.2.1. an all-round project management tool and designed for team project follow-ups and collaboration, but the whiteboard and markup function make it useful for designers too
2.3.3. Scribblar
2.3.3.1. more like a chat room – it even has audio available – and creative brainstorming and artwork revision can be collaborated in the 'room' you create
2.3.4. GoVisually
2.3.4.1. allows you to mark annotations and place comments on any part of your project – so designers and clients can collaborate to revise projects online without sending painful e-mails, which should ultimately increase productivity
2.3.5. Asana
2.3.5.1. a nifty task and project management tool, that works especially great for remote teams with a complex project setup
2.3.6. Mural
2.3.6.1. a creative tool for you to drag-n-drop rich media files, links, and documents onto a big HTML5 drawing board, which is a great way to collect inspiration and gather thoughts and it also supports collaboration that allows designers to brainstorm cool ideas remotely
2.3.6.2. anyone can join you to edit and collaborate, and changes are reflected on the board in real-time
3. Curating existing content for use on the web
3.1. "the process of sorting through the vast amounts of content on the web and presenting it in a meaningful and organized way around a specific theme"
3.2. - include sifting, sorting, arranging, and placing found content into specific themes, and then publishing that information.
3.3. act of discovering, compiling, and sharing existing content with your online followers
3.3.1. allows you to provide extra value to your brand's audience and customers
3.4. provides value from the inside out
3.4.1. help establish the organization's thought leadership and capture attention in today's information cluttered world
3.4.2. help your organization become the go-to authority on an issue or topic area
3.5. There are three content curation beneficial in marketing strategy:
3.5.1. - Weekly blog posts. Collect helpful resources found from around the web, categorize them and publish them as resources for their readers.
3.5.2. - Weekly editorial email newsletters. An opportunity to save your followers the time it takes to search and scour the web for great content. Pick out the gems, organize them in a sensible way and send them along to your email list.
3.5.3. - Share curated content on your social networks. Social media is one of the channels where content curation is key to staying relevant to your followers and growing your following.
4. Project Management of ICT Content
4.1. "Project management is "the application of knowledge, skills, tools and techniques to project activities to meet project requirements"
4.2. Knowledge areas describe the key competencies that project managers must develop
4.3. core knowledge areas lead to specific project objectives
4.3.1. Scope Management
4.3.1.1. Project scope statements, statements of works, requirements analysis, WBS, scope change control
4.3.2. Time Management
4.3.2.1. Gant Charts, Project Network Diagrams, Critical Path Analysis, PERT, milestone reviews
4.3.3. Cost Management
4.3.3.1. Net present value, return on investment, payback analysis, business cases, earned value management, project portfolio management, cost estimates, cost management plan, financial software
4.3.4. Quality Management
4.3.4.1. Six Sigma, Quality Control Charts, Pareto Diagrams, Fishbone / Ishikawa Diagrams, Quality Audits, Maturity Models, Statistical Methods
4.4. facilitating knowledge areas are the means through which the project objectives are achieved
4.4.1. Human Resources Management
4.4.1.1. Motivation techniques, responsibility assignment matrices, Emphatic listening, team contracts, resources histograms, resources leveling, team building exercises
4.4.2. Communications Management
4.4.2.1. Communication management plan, project Web sites, conflict management, Templates, status reports
4.4.3. Procurement Management
4.4.3.1. Make-or-buy analysis, contracts, sources selection, requests for proposals or quotes, negotiating, e-procurement
4.4.4. Risk Management
4.4.4.1. Risk management plan, probability/impact matrix, risk ranking, Monte carlo simulation, top-ten risk item tracking Project Management Tools and Technique