VERBS AND TENSES
by Callysta Raissa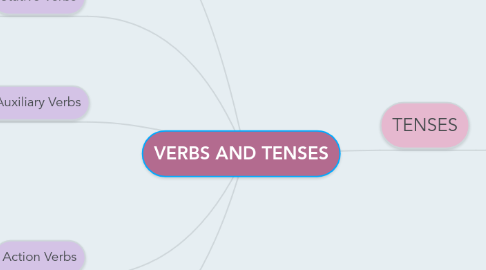 1. TENSES
1.1. Future
1.1.1. Simple
1.1.1.1. I will take
1.1.2. Perfect Simple
1.1.2.1. I will have taken
1.1.3. Continuous
1.1.3.1. I will be taking
1.1.4. Perfect Continuous
1.1.4.1. I will have been taking
1.2. Present
1.2.1. Simple
1.2.1.1. I take
1.2.2. Perfect Simple
1.2.2.1. I have taken
1.2.3. Continuous
1.2.3.1. I am taking
1.2.4. Perfect Continuous
1.2.4.1. I have been taking
1.3. Past
1.3.1. Simple
1.3.1.1. I took
1.3.2. Perfect Simple
1.3.2.1. I had taken
1.3.3. Continuous
1.3.3.1. I was taking
1.3.4. Perfect Continuous
1.3.4.1. I had been taking
1.4. Conditional
1.4.1. Simple
1.4.1.1. I would take
1.4.2. Perfect Simple
1.4.2.1. I would have taken
1.4.3. Continuous
1.4.3.1. I would be taking
1.4.4. Perfect Continuous
1.4.4.1. I would have been taking
2. Action Verbs
2.1. Transitive Verb
2.1.1. Has a direct object
2.2. Intransitive
2.2.1. No object to receive the action
3. Linking Verbs
3.1. Connects the subject of a sentence to a noun or adjective that renames or describes the subject.
4. Helping/Auxiliary Verbs
4.1. Used before action or linking verbs to convey additional information
4.2. The trip might (helping verb) be (main verb) dangerous.
4.3. Modal Verbs
4.3.1. Used to express abilities, possibilities, and permissions
5. Stative Verbs
5.1. Expresses a state rather than an action
5.2. Relate to thoughts, emotions, relationships, senses, states of being, and measurements.
6. Phrasal Verbs
6.1. Combinations of words that are used together to take on a different meaning to that of the original verb.