Marketing Basics
by
Thomas N. Burg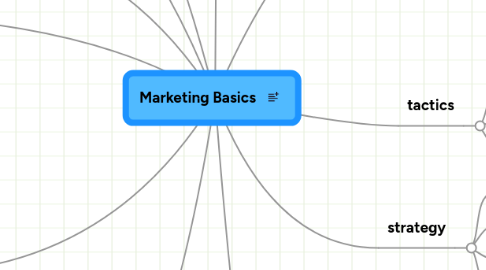 4.1
stars -
9
reviews range from
0
to
5
Marketing Basics
Needs some additional work to get things in a logical order. Main goals of this mindmap is to help to achive the following goals. How to get customers to buy your products How to position/create a brand  
strategy
overall goal of business
specific markets
market needs
products/services
implementation
metrics
expenses/tactics/time
aggregates the programs
basics
rules
= market research
know your customers
know your competition
know your product/capacities
know your potential customers
benefit/pain point
understand/demonstrate benefit, for distributor, for customer, for producer
pain point, which problem is solved, who has the problem, how much is it worth to be solved
target market
part of the strategy
how many
who are they
why and how do they benefit
where are they
message to the market
this is tactics (at least a relevant part of it)
what
how
targeting, early adopters, opinion leaders
segmentation
adaptation
put numbers on it.
how many
how fast
competitive analysis
tactics
message
media
channels
programs
each one has milstones, budgets, kpi, and responsibilities
events
mailings
ads
press release
socialmedia
is it a program or even part of the strategy?
shortcut
determine financial goals
create prospects and clients
provide dates and costs per tactics. determine how many sales (=clients) you need!
strategies
tactics
track and log results
iterate
the marketing mix (Ps)
people
everybody should be an evangelist
product
uniqueness
benefits
features
price
expected ROI
pricing
place
Sales & Distribution
distribution methods, direct channel or intermediaries, distribution costs, delivery terms, inventory/packaging
transaction process, order/billing/shipping process, payment process, return policy/warranties, after sales support/feedback system, credit terms/discounts
sales strategy, salespeople?, incentives for them, training
processes
communication
promotion, based on your USP, what message, which media, sales promotion, marketing materials, publicity, tradeshows, guerilla activities
Drive Sales
Build Awareness
Drive Traffic
Build Community
But what is Marketing all about?
The Purchase Process Funnel
<- Purchase, <- Consideration, <- Preference, <- Perception, <- Awareness