Tottenham HRW Regen Scheme - ISOS Submissions
by Roni Romano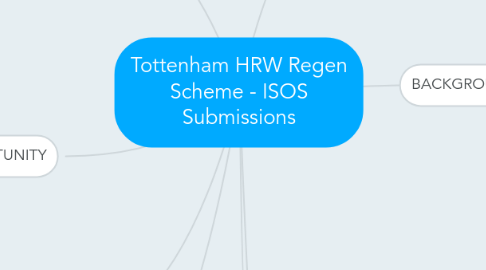 1. BACKGROUND
1.1. development partner
1.1.1. establish a lead role in delivering regeneration and growth across the c.11 hectare
1.1.1.1. building on the vision set out in the 2014 High Road West Masterplan Framework,
1.1.1.2. the Tottenham Area Action Plan,
1.1.1.3. the Strategic Regeneration Framework
1.1.1.4. and the Corporate Plan.
2. AMBITION
2.1. 1.2.1 more homes of a higher quality,
2.2. 1.2.2 a high quality, safe environment in which to live, work and visit,
2.3. 1.2.3 improved community facilities, and
2.4. 1.2.4 new jobs and employment opportunities for local residents and for London.
3. PQQ Shortlist
3.1. Barratt Developments Plc
3.2. BY Development Ltd (trading as "Linkcity")
3.3. Countryside Properties (UK) Ltd and Notting Hill Housing Association (lead: Countryside Properties (UK) Ltd)
3.4. Stanhope Plc and Mitsui Fudosan (UK) Ltd (lead: Stanhope Plc)
3.5. Taylor Wimpey / Pinnacle Group and Starwood (lead: Taylor Wimpey).
4. TIMETABLE
4.1. ISOS Midday on 25th November 2016
4.1.1. REFER OTHER MAP FOR FULL DETAILS
5. KEY DOCUMENTS
5.1. ITPD & ISOS Document
5.1.1. scope, approach to be taken in dialogue, evaluation methodology, high level overview of the indicative methodology to be used at ISFT Stage;
5.1.2. Clarifies the Heads of Terms, identifies the Bidders' proposed approach, high level ideas with regard to the commercial, design and social and economic elements of the Project.
5.1.3. Not a technical design document
5.2. Data Room
5.3. Memorandum of Information provided at PQQ stage
5.4. information provided by the Council during dialogue
6. THE OPPORTUNITY
6.1. 1,400 new homes a minimum of 8,800sqm of commercial space alongside new community facilities
6.2. Significant preparatory work already undertaken. Lots of support.
6.3. Long-term partnership... realise the potential value
7. VISION AND OBJECTIVES
7.1. vibrant and sustainable new neighbourhood
7.2. blend of housing – increasing local residents' housing choice and supply
7.3. supporting the creation of a leisure destination for London
7.3.1. Next to Tottenham Hotspur Football Club development
7.4. The Council's Corporate Plan
7.4.1. outstanding for all, clean and safe and with sustainable growth, housing and employment.
7.4.2. Priorities:
7.4.2.1. Drive growth and employment from which everyone can benefit; 
7.4.2.2. Create homes and communities where people choose to live and are able to thrive; and 
7.4.2.3. Create a clean and safe borough where people are proud to live, with stronger communities and partnership.
8. STAKEHOLDERS - significant regeneration projects, on or near
8.1. THFC led Northumberland Park Development Project
8.2. The TfL/London Overground led White Hart Lane Station Project
8.3. The Council led LIP funded public realm improvements Project
8.4. The Council led District Energy Network
8.5. The Council led Northumberland Park Estate Regeneration Project
8.6. Tottenham Heritage Initiative- Shop Front Improvement Scheme
8.7. Requirements
8.7.1. aligned
8.7.2. coordinated delivery
8.7.3. minimise disruption
8.7.4. work collaboratively