ROLE OF PROFESSIONALS HELPER
by Suhani Haron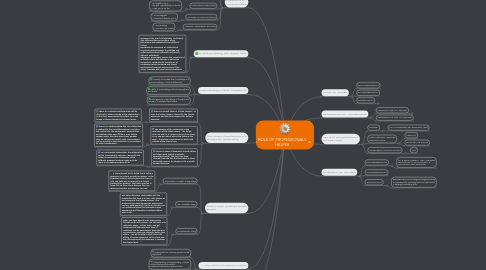 1. Roadblocks to Communication
1.1. . ORDERING, DIRECTING, COMMANDING
1.1.1. - You must do this - You cannot do this - I expect you to do this - Go apologize to her
1.2. WARNING, THREATENING - You better do this, or else - You better not try that
1.2.1. You better do this, or else - You better not try that
1.3. MORALIZING, PREACHING
1.3.1. - You ought to try it - It is your responsibility to do this - I urge you to do this
1.4. ADVISING, GIVING SOLUTIONS
1.4.1. - Let me suggest - It would be best for you if
1.5. JUDGING, CRITICIZING, BLAMING
1.5.1. - You're wrong - You didn't do it right
2. Guidelines dealing with diverse client
2.1. Recognize they may hold attitudes  and beliefs that influence their perceptions of any interactions with individuals from different culture Recognize the important of  multicultural sensitivity/responsiveness, knowledge and understanding about ethnically and racially different individuals Educators, encourages employ the constructs of multiculturalism and diversity in education Researchers recognize the importance of conducting culture-centered and ethical psychological research among person from ethnic, linguistic and racial minority backgrou
3. Understanding Cultural Competence
3.1. Capacity to increase their knowledge and understanding of cultural differences
3.2. Ability to acknowledge cultural assumptions and biases
3.3. Willingness to make change in thought and behavior to address those biases
4. How a Helper Develops (Perry's Stages)
4.1. The Dualistic or Right/ Wrong Stage
4.1.1. Is characterized by the belief that a helper's responses to a client are right or wrong. In the beginning trainees often believe that there is only one right way to respond to a client's statement or situation. The helper may fail to listen fully to their clients because they are thinking what they are going to say next.
4.2. The Multiplistic Stage
4.2.1. The helper becomes comfortable with the knowledge that there is no one right answer at any moment in the helping process. The student at this stage knows that questioning can be a valid approach, but he or she does not yet understand when this approach is more appropriate and therefore is confused about what to do.
4.3. The Relativistic Stage
4.3.1. When you have gained some experiences through study and practice, you will move into relativistic stage. At that stage, you will recognize that although many type of responses may be appropriate, depending on circumstances, some are relatively better than others. You will be able to think about the effects of certain responses on the client and the effectiveness of the responses in reaching the desired goal.
5. TYPES OF HELPER
5.1. NON-PROFESSIONALS
5.2. PARAPROFESSIONALS
5.3. PROFESSIONALS
5.3.1. Included
5.3.2. Included
5.3.3. Excluded
6. The Unique Characteristics of a Therapeutic Relationship
6.1. There is a mutual liking or at least respect – At least the helper conveys respect for the client's autonomy, and the client respects the helper's expertise
6.1.1. There is a contract specifying what will be disclosed to others outside of the relationship – as the client experiences this safety, he or she began to discuss deeper and deeper issues.
6.2. The purpose of the relationship is the resolution of the client's issues – the helper does not ask for or receive support from client. It is a one-way street where the helper is the giver. The helper's own issues are dealt with outside of the client's hour
6.2.1. There is an understanding that the relationship is confined to the counselling sessions and does not overlap into the participants' personal lives – most helpers give out a 24-hour crisis hotline number rather than their own phone number. They do not interact socially with clients when it can be avoided so that objectivity is not strained by other consideration.
6.3. There is a sense of teamwork as both helper and client work toward a mutually agreed-upon goal– the client can draw strength from the fact that the helper is there to provide support for change in the mutually decided direction.
6.3.1. As a contractual relationship, the relationship can be terminated at any time – generally, the helper terminated the relationship when sufficient progress has been made or if the client is not making progress at all.
7. PROFESSIONALS VS FRIENDSHIP
7.1. FRIENDSHIP ONE WAY PROCESS
7.1.1. Materials
7.1.2. Personel
7.1.3. Services
7.1.4. Duration
7.2. PROFESSIONALS TWO WAY PROCESS
8. SETTING PROFESSIONALS HELPER WORK
8.1. SCHOOLS
8.1.1. HUMAN RESOURCE DEVELOPMENT (HRD)
8.2. JOB PLACEMENT AGENCIES ORGANIZATIONS
8.2.1. HOSPITALS
8.2.2. OWNS PRIVATE CLINICS
8.3. HIGHER EDUCATION INSTITUTION
8.3.1. KPI's
9. DIFFERENT OF HELPERS
9.1. NON-PROFESSIONALS
9.1.1. HAVE SOME INTEREST  AND ATTENDED SEMINAR OR TALKS ON EFFECTIVE COMMUNICATION &HELPING
9.2. PARAPROFESSIONALS
9.3. PROFESSIONALS
9.3.1. specialists who have undergone lengthy training or courses at the university level and specialized in helping/counselling skills.
10. Why cultural competence matters
10.1. Individuals from minority groups can be significant
10.2. Understanding and appreciating a clients' cultural background expand treatment/intervention opportunities
10.3. Enhancing the sensitivity and capacity to treat clients from other cultures improves ability to treat/assist all client
11. Understanding Cultural Differences
11.1. Culture greatly influences attitudes about physical contact.
11.1.1. Different cultures regulate the display of emotion differently
11.1.1.1. Some cultures may use different standards for loudness, speed of delivery, silence, attentiveness and time to respond to others