THE IMPORTANCE OF FRIENDSHIPS
by nur mastura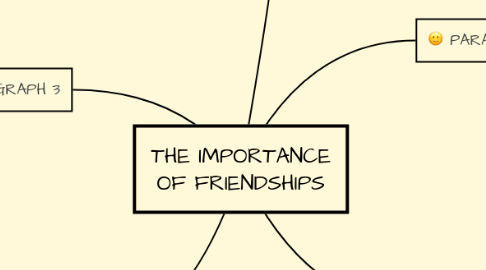 1. INTRODUCTION
1.1. .Friends play an important role in a person's life .
1.2. They encourage when one is sad, they entertain when one is lonesome, and they listen when one has problems.
1.3. Friends that grew up with would share the happiness and sadness one might has.
1.4. The three main qualities that define a good friend are away from loneliness, reality check and unconditional love.
2. PARAGRAPH 1
2.1. AWAY FROM LONELINESS
2.2. loneliness is a painfull.
2.3. loneliness for extended period becomes extremely depressing.
2.4. friends come as the cure for loneliness.
2.5. imagining a world without friends, and being alone in the outside world forever is a massive pain to the brain
3. PARAGRAPH 2
3.1. REALITY CHECK
3.2. Friends knows us so well
3.3. They bring the harsh truth in front of us.
3.4. Friends make sure to keep our foot on earth.
3.5. A friend who care about you have a perspective behavior.
3.6. As Flora points out : "Friend are better at describing our behavioral traits than we are"
4. PARAGRAPH 3
4.1. UNCONDITIONAL LOVE
4.2. Friends love us without any such condition or relation.
4.3. Care for us without expectations and assurance.
4.4. we get to share the most amazing kind of love and relation with friends.
4.5. There are times when your family fails to solve all the problems of your life; you can easily get out of these problems of yours if you are in communication with a few friends.
5. CONCLUSIONS
5.1. Friends also play an important role in our life
5.2. The importance of friendship is away from loneliness, reality check and unconditional love.
5.3. we must keep the ties of friendship that we have now with the good that we do not regret it later .