Lecture 2 : Mangaement and Leading
by skuyler lobo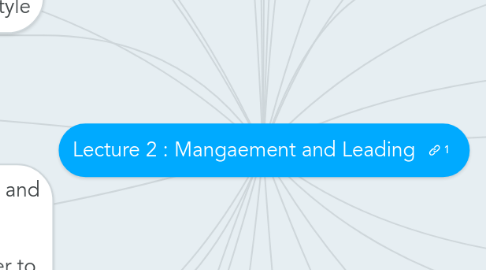 1. BY SKUYLER LOBO STUDENT ID: 918256  Bsc. Hons Management
2. Leader A person who inspires, develops and mentors people. Leadership "The ability to persuade others willingly to behave differently"                         "Process of influencing people – getting them to do their best to achieve a result"                          "Involves developing and communicating a vision for a future"
3. The process of directing, controlling, motivating, and inspiring staff toward the realization of stated organizational goals.
4. TRAIT THEORY
5. 1. Leaders hips defined in terms of traits. 2. Trait theories assume certain measurable characteristics
6. Adar's list of qualities • Enthusiasm • Confidence  • Toughness • Integrity • Warmth • Humility
7. LEADERSHIP BEHAVIOUR
8. • Behavioral theories attend only to observable behavior and how leaders act • Two Dimensions of a Leadership
9. Situational and Contingency Approaches emphasize contextual factors to leadership effectiveness
10. Contingent Leadership
11. - Fiedler – The type of leadership exercised depends on the situation and the ability of the leader
12. SITUATIONAL LEADERSHIP MODEL
13. A leader is expected to use the appropriate style based on the subordinates readiness and willingness to be led by other
14. Four Leadership Styles
15. - Delegating - Participating - Selling - Telling
16. PATH – GOAL LEADERSHIP
17. - Effective leaders motivate employees by helping them understand that their needs and expectations can be fulfilled.   - An effective leader adjusts and adapts their style according to the situation and can use one or more style
18. Type of Leaders  (Transactional, Transformational, Charismatic)
19. LEADER AS A COACH
20. Coaching is the process of developing and enhancing employees' job competencies and capabilities through constructive suggestions and encouragement Mentoring is the process of passing on the job expertise, skill and knowledge in order to develop a protégé -Master and Student relationship
21. COACHING CAPABILITIES • Trust building • Empathy • Active Listening • Influence tactics   • Set Goals • Monitor performance • Feedback (+ve and –ve) • Encourage Positive Actions  • Discourage Negative Actions
22. MOTIVATION
23. Positively inducing subordinates to perform better.
24. McGregor's Theory X and Y
25. - Theory X is managerial orientation that views employees as lazy, self-interested, and requiring control and coordination - Theory Y is managerial orientation that views employees as motivated by feelings of self-worth, and seek autonomy, fulfilment, and meaningfulness at work
26. Maslow's Hierarchy of Needs
27. - Self-Actualization - Esteem Needs - Belongingness and Love needs - Safety Needs - Psychological Needs