Comunidad y Sociedad
by Viviana Velazco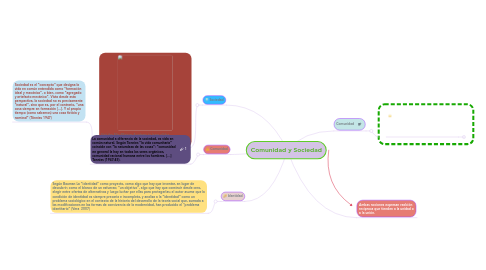 1. Comunidad
1.1. La comunidad a diferencia de la sociedad, es vida en común natural. Según Tonnies "la vida comunitaria" coincide con "la naturaleza de las cosas": "comunidad en general la hay en todos los seres orgánicos, comunidad racional humana entre los hombres. […] Tonnies (1947:45).
2. Sociedad
2.1. Visit the MindMeister Academy to learn all the tricks and become a great mapper in no time!
2.1.1. Sociedad es el "concepto" que designa la vida en común entendida como "formación ideal y mecánica", o bien, como "agregado y artefacto mecánico". Vista desde esta perspectiva, la sociedad no es precisamente "natural", sino que es, por el contrario, "una cosa siempre en formación […]. Y al propio tiempo (como sabemos) una cosa ficticia y nominal" (Tönnies 1947)
3. Identidad
3.1. Según Bauman La "identidad" como proyecto, como algo que hay que inventar, en lugar de descubrir; como el blanco de un esfuerzo; "un objetivo", algo que hay que construir desde cero, elegir entre ofertas de alternativas y luego luchar por ellas para protegerlas; el autor asume que la condición de identidad es siempre precaria e incompleta, y analiza a la "identidad" como un problema sociológico en el contexto de la historia del desarrollo de la teoría social que, sumada a las modificaciones en las formas de convivencia de la modernidad, han producido el "problema identitario" (Vera 2007)
4. Comunidad
4.1. según weber el concepto de sociedad conlleva al concepto de individuo, mientras que el concepto de comunidad refiere más al concepto de masa tal como se ha entendido desde Lebon y Freud.
4.1.1. Open the Theme menu from the bottom of your map editor to change your map theme
4.1.2. Create a presentation of your mind map by clicking the presentation icon in the bottom left corner of your screen
4.1.2.1. Simply hold down COMMAND i.e. CTRL and Click & Drag to create a slide for one or multiple topics
4.1.2.2. Set transitions for your slides
4.1.2.3. Click "Start Slideshow" to view your presentation
4.1.3. Open the Sharing Settings from the bottom of your map editor to share the map with a friend or publish it to the web
4.1.3.1. You can share your map with anyone via email
4.1.3.2. You can publish your map and enable anyone with an internet access to find it
4.1.3.3. You can embed your map on a blog or website
5. Ambas nociones expresan realción reciproca que tienden a la unidad o a la unión.