PAST PERFECT CONTINUOUS
by Deivi Ramirez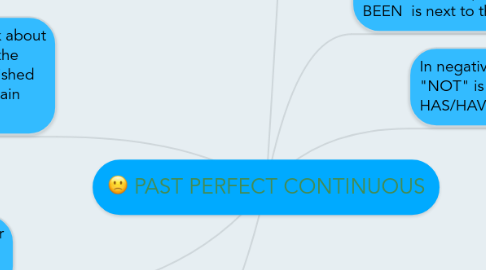 1. In negative sentences the participe "NOT" is next to the auxiliar HAS/HAVE and before BEEN.
2. HAS/HAVE open the sentence and BEEN  is next to the subject
2.1. NEGATIVE: I Had not spoken
2.1.1. QUESTION: Had I spoken?
3. Grammarly, it always uses the auxiliar verbs HAVE BEEN or HAS BEEN according to the subject pronoun.
3.1. EXAMPLE: Love-Loved
4. The main verbs is always in progressive form, is to soy, with the ING ending.
4.1. EXAMPLE: They have been drinking too much
4.2. EXAMPLE: Before I came here, I had spoken to Jack
5. This tense is used to talk about activities that stardet in the past but they are not finished yed and also have a certain duration.
5.1. EXAMPLE: If I had seen him, I would have talked to him.
6. EXAMPLE: Laura has been singing better