In F. Scott Fitzgerald's The Great Gatsby, Myrtle Wilson was tragically killed when a car ran over her. This came as a great shock to many of the rich folks who lived relatively nearby, as they have been somewhat shielded to violence and sorrow in their immediate circles. This is typical of the era, as a main theme of the "Roaring 20's" was hiding from the atrocities of the world through use of alcohol or the like.
by Colin Haggarty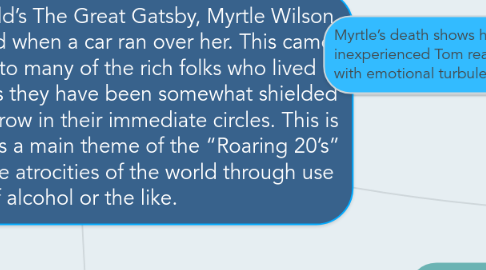 1. Both Tom and Daisy seem to embody the American Dream and Modernism
1.1. Their choice to move chose narcissistic interests over the social world, a key aspect of Modernism
2. Myrtle's death shows how inexperienced Tom really is with emotional turbulence
2.1. "'Instantly killed,' replied Tom, stunned." (Page 147)
2.1.1. Tom seems as though he's scarred by what's happened.
2.1.1.1. Myrtle was almost an object to Tom, and he believed that he'd always have her as an "asset" of some kind.
2.1.1.1.1. He's coming to realize that he has lost her, and Gatsby could potentially be to blame
2.1.1.2. Tom decided to move out West to forget about and disassociate himself with the Valley of Ashes.
3. Having killed Myrtle, Daisy's true personality is revealed to the reader.
3.1. Daisy chose to not talk about Myrtle because she wants to distance herself from it.
3.1.1. For one, she chose to leave the area and move out West with Tom.
3.1.1.1. This was to disassociate herself with anyone from East or West Egg.
3.2. It becomes apparent that Daisy will follow whoever has the money, even though she doesn't necessarily like them.
3.2.1. Here, deares'." She groped around in a waste-basket she had with her on the bed and pulled out the string of pearls. "Take 'em down-stairs and give 'em back to whoever they belong to. Tell 'em all Daisy's change' her mind. Say: 'Daisy's change' her mine!'
3.2.1.1. Although she says this (albeit while drunk), she ends up marrying Tom anyways because of his money.