Web 2.0 Tools & Mobile Apps
by Deanna Baxter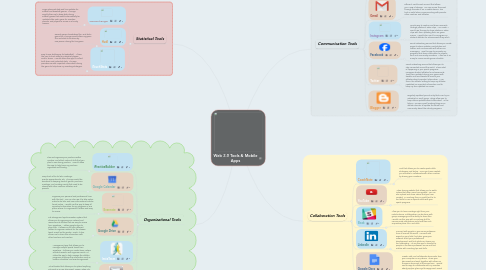 1. Communication Tools
1.1. Remind
1.1.1. Free text messaging app that allows coaches, athletes, and parents to communicate quickly and easily.  I would utilize this app to keep my athletes and parents up to date with important information that I need to notify them with quickly.
1.2. Gmail
1.2.1. Efficient, useful email account that allows you 15GB of storage.  You can access this email through the web or on a mobile device. This tool is useful when communicating with parents, other coaches, and athletes.
1.3. Instagram
1.3.1. Simple way to capture and share moments through photos or video clips.  As a coach, I would use this app to share photos or video clips with fans, updating them on game scores.  I would also use it to recognize my student athletes for achievements they reach.
1.4. Facebook
1.4.1. Social networking service that allows you create pages to share updates, post photos and videos, and communicate with others via messaging.  I use this app to promote my programs and share information to players, fans, and community members.  I also use it as a way to communicate game schedule.
1.5. Twitter
1.5.1. Social networking service that allows you to stay connected around the world.  Share what is happening in your sports programs, recognize student athletes for achievements,  keep fans updated during your games with tweets, and send tweets to remind your athletes about important information.  I use this in the athletic setting to keep my athletes upadated on important information and to keep my fans updated on scores.
1.6. Blogger
1.6.1. Regularly updated journal entry that is ran by an individual or small group.  Blogs allow you to keep others updated about information.  In the future, I can see myself creating blogs as an athletic director to update the school and community about the activity programs.
2. Collaboration Tools
2.1. CoachNote
2.1.1. Tool that allows you to create sports drills, strategies, and tactics.  Once you have created, you are able to collaborate with other coaches by sharing your creations.
2.2. YouTube
2.2.1. Video sharing website that allows you to watch videos that other users have posted.  You can also upload and share videos that you have created.  In coaching this is a useful tool to to find drills to use on specific skills with your sports programs.
2.3. Slack
2.3.1. Allow you to have meetings right from your mobile device. Collaboration can be done with group messaging and the ability to share files.  I would use this app with a coaching stuff to communicate information and share files such as practice plans, film, and drills.
2.4. LinkedIn
2.4.1. Connect with people in your same profession from all around the world.  Connect with experts in your field, find jobs, grow your network, build your professional development, and find articles on topics you find interesting.  I'd use this app to connect to people in the same profession as me and find articles with coaching tips and drills.
2.5. Google Docs
2.5.1. Create, edit, and collaborate documents from your computer or any device.  Share your documents and work together with others on the same document at the same time.  I would use this app to collaborate with my coaches about practice plans and to assign each coach specific duties during the practice.
3. Organizational Tools
3.1. iPracticeBuilder
3.1.1. Plan and organize your practices within minutes, and attach video of drills that you plan to use during practice.  I would utilize this app to help keep my practices organized and flowing.
3.2. Google Calendar
3.2.1. Keep track of to do lists, meetings, events, appointments, etc.  This app would be beneficial in keeping track of games, practices, meetings, and creating events that need to be shared with other coaches, athletes, and parents.
3.3. Evernote
3.3.1. Organize your personal and professional lives with this tool.  You can also use it to take notes, make to-do lists, and save informational articles found online.  I would use this app to keep all important information for my programs in one place, where it is organized in folders and easy to access.
3.4. Google Drive
3.4.1. File storage and synchronization system that allows you to organize your material and resources into folders that are easy to access from anywhere.  I utilize google drive to store files.  It allows me to have different folders to organize material for the classes I teach as well as the sports I coach. It also allows me to share this information with other teachers and coaches.
3.5. InstaTeam
3.5.1. Management app that allows you to manage multiple sports teams from anywhere.  It allows you create team rosters, schedule events, and organize events. I'd utilize the app to help manage the athletic programs and keep the information such as rosters, schedules, and events organized.
3.6. LiveBinders
3.6.1. Virtual binder that allows you to upload anything into such as a PDF, document, image, video, etc. Everything in the binder is organized by tabs.  This would be a great tool to use as an athletic director to organize all the information and paperwork from an athletic program.  Coaches could use this to organize information for their sports as well.
4. Statistical Tools
4.1. GameChanger
4.1.1. Keep advanced stats and live updates for softball and baseball games.  This app would allow me to keep stats during softball games that would automatically be updated after each game for coaches, parents, and players to access in a timely manner.
4.2. Hudl
4.2.1. Record games, breakdown film, and stat a game live. This app would allow my game film and stats to be done by one person during the live game.
4.3. iTouchStats
4.3.1. Easy to use stat keeper for basketball.   Allows the user to track stats for individual players and/or teams.  I would utilize this app to collect both team and individual stats.  The app provides me with important information during the game to help drive my coaching strategies.