L'Oréal
by iona django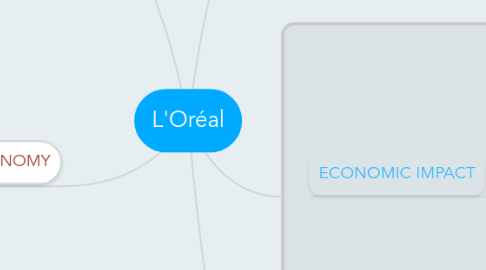 1. SOCIAL AND CULTURAL IMPACT
1.1. The company's products are global symbols of fashion and sophistication, appealing to the idealized self-image of customers.
1.2. Uniformisation of beauty standards and features
1.2.1. Public acceptance of the beauty industry
1.2.1.1. change in social status of the sex -> empowerement of women
1.3. L'Oréal and the entire cosmetic industry remain resilient, revealing how beauty products have become a perceived necessity for many women around the world.
2. ECONOMIC IMPACT
2.1. World leader in skin care, makeup, and hair color
2.2. Since 2004 L'Oréal's revenue has increased by half and its profits have almost doubled,
2.3. L'Oréal Paris brand is sold in mass markets worldwide and accounts for half the sales of the consumer products division.
2.4. L'Oréal has to maintain a steady stream of new products (every year, roughly 20% are new) to extend market shareand maintain  competition with French rivals such as Estée Lauder and Revlon
3. CRITICISM
3.1. Only a few foreigners have become senior executives.
3.2. global business units  of the company have ignored the richness of cultural differences across markets
3.3. Culturally diverse teams within the TNC after the company was contested of not often experience  difficulties of communication enducing the breaking up of teams
3.4. Criticism has occured over publicity exposing photoshopped models
3.5. animal testing
4. ENVIRONMENTAL IMPACT
4.1. All along the production chain, the TNC follows a policy of environmental conservation and the protection of natural resources and biodiversity
4.2. The company still uses animal testing extensively
5. ROLE IN GLOBAL ECONOMY
5.1. The company has offices in more than 130 countries
5.2. Half the company's sales came from new markets outside Europe and North America, mostly in emerging economies
5.3. Despite the financial crises in Europe and North America, L'Oréal has been growing and gaining market share, mostly at the expense of its competitor
5.4. multicultural executives have come to play a critical role in product development (not just in Paris but also in New York, Tokyo, Shanghai, Rio, and Mumbai)