Texto argumentativo y el modelo de Toulmin.
by dejanira aparicio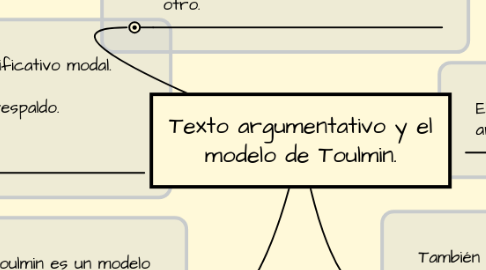 1. El texto argumentativo tiene una tesis, argumentos una o mas conclusiones.
1.1. English
1.1.1. Text book p. 55-60
1.1.2. Joseph Conrad "Heart of Darkness"
2. También puede llevar una conclusión explicita e implícita.
2.1. Spanish
2.1.1. Midterm
3. El modelo de toulmin es un modelo argumentativo que nos perite analizartexto argumentativo.
3.1. Physics
3.1.1. Research and prepare experiment
4. 1:Modalizardor o calificativo modal.   2:Datos o evidencia.                     3:Fundamentos o  respaldo.           4:Garantias.                             5:Reserva.
4.1. consiste en una tesis que tiene 5 características:
4.1.1. New vocabulary
5. El texto argumentativo se trata de convencer o persuadir que un punto de vista es mas valido que otro.
5.1. Maths
5.1.1. Text book, exercises 34, 35, 36, 37