App Ideas
by
Benjamin Watson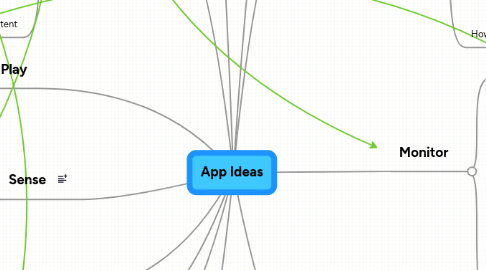 0.0
stars - reviews range from
0
to
5
App Ideas
Recognize
Images to text Complex to label  
What
How
Monitor
Outside of phone
Phone itself
Access
devices
audio
menus: done?
At restaurants: e.g. starbucks and chipotle
Remember
Lectures streamed and stored
Call recording
Password book: done?
names
Take a picture, get the name of the person
What you did on convention floor
Producing layers on a GIS
"life streaming" & diary
paths followed within building
Transform
modality
content
Locate
Location aware profiles
bright rooms vs dark, school vs home.
Emergency utility
Says what's wrong, where you are. Can't talk, buttons for emergency type Enhanced panic button
Friends near me
Google latitude? Hotpot? See new feature from latitude
Guided tours: done?
Augmented reality games
Take a picture of the table surface, then play cards on that surface. Other games: chess, wargames, monopoly, settlers of cataan
Chat with people nearby
they don't get your location, maybe only by mutual agreement. Dating?
Multidestination travel
Lost things
Share
phone to phone transfer
Report discovered problems
Bump for other stuff?
Bump existing on android?
Play
Suggest a move
"Touchy" voice and touch
Only responds if soothed.
Table game helper
dice, who goes first (who taps first), etc
virtual volleyball
Keep the ball up, using location and physics
word play
e.g. pictionary, taboo, etc.
Solve
Jigsaw puzzle: done?
Maybe something that solves a jigsaw puzzle from a picture?
Rubiks and others
knots
Sense
Stuff we don't sense well
Find blood pressure
AR vision
Calories burned
Learn
Gesturing tutor
Sign language
Filter
Per contact phone triage