App Ideas
by
Benjamin Watson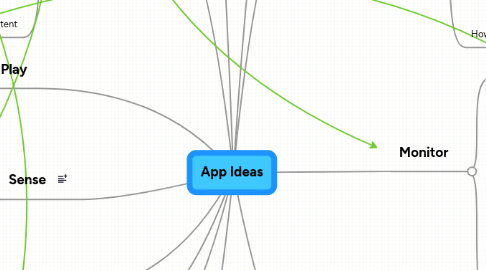 0.0
stars - reviews range from
0
to
5
App Ideas
Recognize
Images to text Complex to label  
What
people, age, finger prints, celebrities, faces
medical, skin disease
nature, stars, bugs, plants
things, fashion, other objects
text, quotes
How
camera
touchscreen, Alternative uses for capacitive touchscreen, Other sorts of input surfaces
sound
Monitor
Outside of phone
Owner, Alertness sensor, driving, studying, staying awake
Child monitor
Elderly
Room, Is someone in the room?, using camera?, sound, motion
Food, meat sensor
Phone itself
Phone tether, Tamagochi, Preventing loss
unauthorized access, kensington lock, Voice unlock, location tracking for theft: done?
Access
devices
what, home automation, Remote: done?, Connect to a car and play music: done?, Desktop sync: done?, Remote desktop control, Remote desktop display
how, Phone as mousepad
audio
Podcast search
menus: done?
At restaurants: e.g. starbucks and chipotle
Remember
Lectures streamed and stored
Call recording
Password book: done?
names
Take a picture, get the name of the person
What you did on convention floor
Producing layers on a GIS
"life streaming" & diary
paths followed within building
Transform
modality
voice, to code, to text, Call to SMS or email, to UI commands, Voice to song play, Phone that talks back
SMS, to voice
image, to text
text, LED for information: e.g. morse, voting app, light show, SOS, To sound, e.g. "C" to tone
content
image, Cartoonize any picture: done?, Content based image editing
audio, editing, music to chiptune
text, to text: done?, A text expander?
Locate
Location aware profiles
bright rooms vs dark, school vs home.
Aware in other ways?, moving/still, emotion
Emergency utility
Says what's wrong, where you are. Can't talk, buttons for emergency type Enhanced panic button
Friends near me
Google latitude? Hotpot? See new feature from latitude
Guided tours: done?
Augmented reality games
Take a picture of the table surface, then play cards on that surface. Other games: chess, wargames, monopoly, settlers of cataan
Chat with people nearby
they don't get your location, maybe only by mutual agreement. Dating?
Multidestination travel
yard sales
delivery
Lost things
Cars
Keys
Phones
Share
phone to phone transfer
Report discovered problems
Bump for other stuff?
Bump existing on android?
Play
Suggest a move
"Touchy" voice and touch
Only responds if soothed.
Table game helper
dice, who goes first (who taps first), etc
virtual volleyball
Keep the ball up, using location and physics
word play
e.g. pictionary, taboo, etc.
Solve
Jigsaw puzzle: done?
Maybe something that solves a jigsaw puzzle from a picture?
Rubiks and others
knots
Sense
Stuff we don't sense well
Find blood pressure
other body stats
AR vision
IR vision
motion
Calories burned
Learn
Gesturing tutor
Sign language
Filter
Per contact phone triage