Our Learning Y0/Y1/Y2
by
Shelley Eaton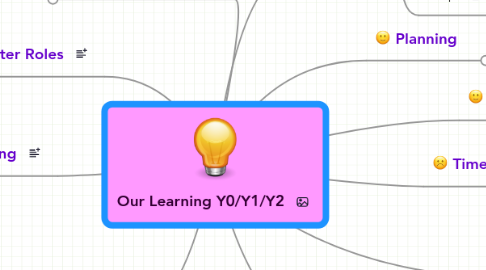 0.0
stars - reviews range from
0
to
5
Our Learning Y0/Y1/Y2
Typing
Learning Centre
Set up a learning centre for touch typing.
Keyboard
Include a keyboard in all the childrens books so they can continue practicing.
Groups
To include other technologies eg; books, whiteboards, mimio, typing, fine motor mouse control
Planning
Highlighting
Include use of digital tools and software as a column to the planning.
Creating work
Teachers are going to make resources to use on whiteboards for children to use.
Technologies
Would like to have the chance to use more technologies avaliable to use in the school, eg; ipad; flip camera.
Hardware
Avaliablity / Road Blocks
Audio
Liked the idea of recording books and using for listening posts.
Digital Matrix
It shows all the different stages and links in with key competencies.  Could be adapted further to make more child friendly.
Computer Roles
Director/Observer etc - good managment and a way of including all children in the use of the computer.
Reading Tumble
The use of reading choices - this give the children more options.  The ability to re visit skills they are still learning.
Conferencing
Great idea - scrapbook for conferencing - at appropriate level
Time Management
-It about making sure everything is well organised before the start of the day - not  having flat batteries in the camera, having all the avaliable cords to downlaod information.  Time consuming/managment/organisation
Camera
Have a camera avaliable so the children can independently take photos of their work, eg; writing on the whiteboard, maths sequcencing etc.