Rumpelstiltskin Mind Map
by
Kate Stephens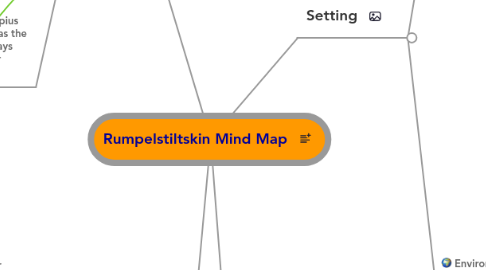 0.0
stars -
0
reviews range from
0
to
5
Rumpelstiltskin Mind Map
This is just a demo map that you can delete right away, if you feel like it...
Time Period
Tudor
Victorian
Futuristic
Pre-historic
21st Century
20th Century
WW1
WW2
Elizabethan
Georgian
Myth (300 BC)
Setting
Man made
Buildings, Castle, Home, Religious, Museum/art gallery, Iconic landmarks, Eiffel Tower, Big Ben, Houses of Parliament, Pyramids, Taj Mahal, Statue of Liberty, Wall of China, Mt. Rushmore, Sydney Opera House
Bridge
Spacecraft
Harbour
Train station/Airport
Enviroment
Space
Underwater
Woods/forest
Mountains
Beach
Sky
Field
Characters
Rumpelstiltskin
Keniving
Evil
Protagonist
Foolish
Sorcerer/Spirit
Daughter
Strong
Emotional
Determined
King
Greedy
Selfish, Personal Todo List, Vacation Planning, Meeting Minutes, Project Plan, more...
Powerful, Offline Mode, Geistesblitz Tools, Email & SMS Gateways, Compare Editions
Father
Poor
Stupid
Plots
King could be Henry VIII, wanting a baby boy. Daughter could be Jane Seymour (pale, blonde), was not educated but was very good at needlework (reported to be beautiful and elaborate) and Henry VIII could be ending with Anne Boleyn after her miscarriages and thus keeps Jane prisoner so he can marry her and have a boy, heir to the throne.
Greek Mythology: King wants the strongest army in the Kingdom, he wants to heal every solider wounded or killed to ensure an immortal army. The daughter is called in as the women with the greatest healing powers in the kingdom to revive the soldiers but it is an impossible task. Asclepius (God of Healing) acts as the Rumpelstiltskin who says he will revive them for gold (like in the Myth)