DIVISION OF WESTERN PHILOSOPHY
by PRINCESS AINA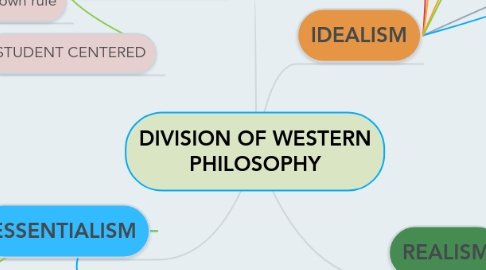 1. ESSENTIALISM
2. EXISTENTIALISM
3. IDEALISM
4. REALISM
5. AIM OF EDUCATION : To develop the individual  spiritually, mentally and morally.
6. SUBJECT : Literature, History, Philosophy, Religion, Mathematics, Art.
7. PEDAGOGY USED : Lecture ( discussion method ),  Excursion, Question Method, Project Method.
8. CHARACTER DEVELOPMENT : Imitating examples of hero.
9. ROLE OF TEACHER : Chief source of inspiration and Creator of educational environment.
10. AIM OF EDUCATION : Emphasis on the practical side of education for moral and character development.
11. PEDAGOGY USED : Understanding of facts, Teach fundamental facts, and Emphasis on critical reason ( obervation & experimentation )
12. SUBJECT : practical and useful.
13. PROPONENT : JOHN LOCKE, JOHN AMOS COMENIUS, JOHANN PESTALOZZI, FROEBEL, HERBART, MARIA MONTESSORI.
14. ROLE OF TEACHER : Present material in a systematic and organized way, Promote the idea that one can used clearly defined criteria in making judgments, Take a critical look at what students are doing.
15. CURRICULUM : Core skills like 3R, Values discipline hard work and perfect authority, The primary mission is academic, Has a well defined curricular-orientation, The teacher is an academic authority figure.
16. Education that have been useful in the past and are likely to remain useful in the future
17. PEDAGOGY USED : Deductive Method, Recitation, Assignments, Analysis and Synthesis, " Race and Social Heritage " over experiences.
18. ROLE OF TEACHER : Provide stimulating activities for learning, Prepare well-organized lessons, Authoritative and Disciplinarian
19. EDUCATIONAL AIM : To train individual for significant and meaningful existence.
20. PROPONENT : SOREN KIERKEGAARD ( FATHER OF EXISTENTIALISM )
21. SUBJECT : Subject centered, Literature, History, Arts for Aesthetic Expression, Humanities for Ethical Values
22. PEDAGOGY USED : Inquiry Approach, Question-Answer Method, Experimentation, Self-expressive activities.
23. ROLE OF TEACHERS : Good provider of experiences, Effective questioner, Mental disciplinarian
24. ROLE OF THE STUDENT : Determines own rule
25. STUDENT CENTERED
26. TEACHER CENTERED
27. TEACHER CENTERED
28. TEACHER CENTERED
29. HENRIK IBSEN : FATHER OF REALISM
30. AIM OF EDUCATION : Instill students with the essential of academic knowledge, enacting a back to basics approach.
31. One major supporter of essentialism  is Diane Ravitch. Ravitch wrote several books in support.