Web 2.0 Tools
by Tabitha Clabaugh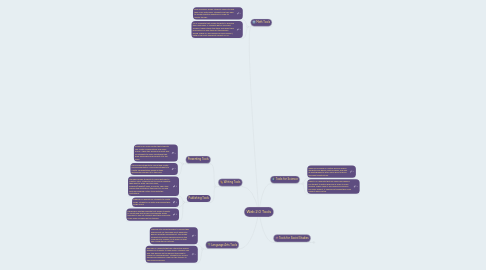 1. Writing Tools
1.1. Presenting Tools
1.1.1. Padlet is an online poster that students can create collaboratively and share online. I think this would be a great way for students to share something they have researched and present it to the class.
1.1.2. Prezi allows students to look at and create online presentation. This allows students to create a presentation based on their writings and present it to the class.
1.2. Publishing Tools
1.2.1. Storybird allows students to chose pictures to create a story. Students get to choose whether they want to write a picture book, longform(chapter) book, or poetry. Then they choose the illustrations they want to use and write and publish a story to go with the illustrations.
1.2.2. Kidblog is a website for students to create blogs. Students can write and publish their blogs online.
1.2.3. Edublogs is another website that allows students to create and post a blog. This website allows teachers to only let students post their blog after it has been reviewed by the teacher.
2. Math Tools
2.1. Khan Academy shows students videos to help them learn math skills. Students are then able to answer practice questions in order to master the skill.
2.2. IXL is a website that allows students to practice their math skills. If students get an incorrect answer it shows them the steps and gives them information on why they got the problem wrong. While IXL has quizzes for each subject, math is the most dominant subject on IXL.
3. Language Arts Tools
3.1. Spelling City allows teachers to upload their spelling lists for the week and it generates games using the uploaded list. This allows students to practice spelling words in the classroom as a group, or at home on their own computers or devices.
3.2. Raz Kids is a website that has interactive leveled ebooks for students to read online. Students can also take quizzes on the ebooks they read to check for comprehension. Students can record themselves reading in order for the teacher to take running records.
4. Tools for Science
4.1. Game for Science is a virtual world in which students play games, watch videos, and look at photographs to learn more about science and what scientists do.
4.2. NeoK12 is a website that has videos and games for student to watch and play in order to learn science. While NeoK12 has videos and lessons for every subject, it seemed as though their main subject was science.
5. Tools for Social Studies
5.1. Brainpop Jr. has videos, games, and quizzes to teach students about social studies. Brainpop Jr. has videos and games for each subject but, I mostly use it for social studies.
5.2. Secret Builders is a virtual world in which students meet historical figures and interact with them to learn more about them.