Static Electricity
by Jeremy Chua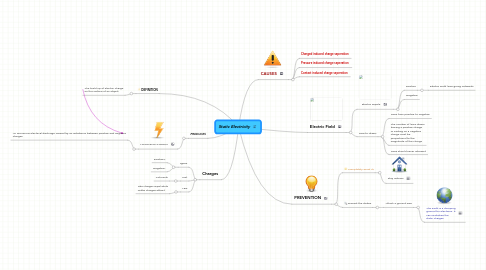 1. CAUSES
1.1. Charged induced charge seperation
1.2. Pressure induced charge seperation
1.3. Contact induced charge seperation
2. PRODUCES
2.1. LIGHTNING STORMS
2.1.1. An enormous electrical discharge caused by an imbalance between positive and negative charges.
3. PREVENTION
3.1. Completely avoid it!
3.1.1. Stay indoors
3.2. Prevent the strikes
3.2.1. Attach a ground wire
3.2.1.1. The earth is a dumping ground for electrons. It can neutralize the static charges.
4. DEFINITION
4.1. The build up of electric charge on the surface of an object.
5. Electric Field
5.1. Electric Dipole
5.1.1. Positive
5.1.1.1. Electric Field lines going outwards
5.1.2. Negative
5.2. How to draw?
5.2.1. Lines from positive to negative
5.2.2. The number of lines drawn leaving a positive charge or ending on a negative charge must be proportional to the magnitude of the charge
5.2.3. Lines should never intersect
6. Charges
6.1. Types
6.1.1. Positive+
6.1.2. Negative-
6.2. Unit
6.2.1. Coloumb
6.3. Law
6.3.1. Like charges repel while unlike charges attract