Estrategias para informar
by Alejandra Flores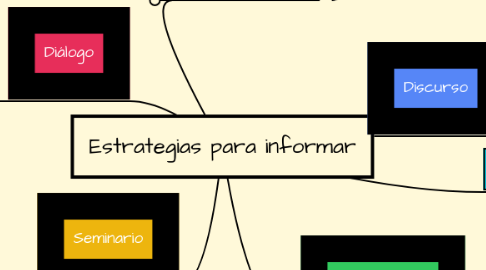 1. Discurso
1.1. Del latín discursus, un discurso es un mensaje que se pronuncia de manera pública.
1.1.1. Text book p. 55-60
1.1.2. Joseph Conrad "Heart of Darkness"
2. Conferencia
2.1. una conferencia es una disertación en público sobre algún tema concreto
2.1.1. Midterm
3. Seminario
3.1. es una clase o encuentro didáctico donde un especialista interactúa con los asistentes en trabajos en común para difundir conocimientos o desarrollar investigaciones.
3.1.1. Research and prepare experiment
4. Diálogo
4.1. un diálogo describe a una conversación entre dos o más individuos, que exponen sus ideas o afectos de modo alternativo para intercambiar posturas.
4.1.1. New vocabulary
5. Exposición
5.1. Exposición es la acción y efecto de exponer (presentar algo para que sea visto, manifestarlo, hablar de algo para darlo a conocer)
5.1.1. Text book, exercises 34, 35, 36, 37
6. Entrevista
6.1. La acción de desarrollar una charla con una o más personas con el objetivo de hablar sobre ciertos temas y con un fin determinado