Photoshop exploration
by
Pete Ippel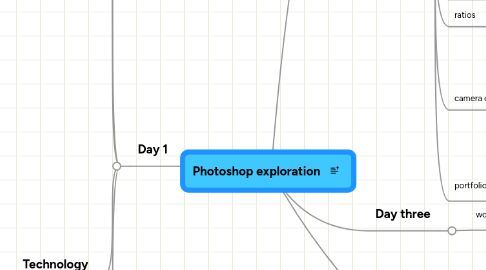 0.0
stars -
0
reviews range from
0
to
5
Photoshop exploration
This mind map and class notes are the intellectual property of Pete Ippel, please do not use without permission of the author.
Review
Going over day two ratios and composition guidelines one more time.
Day two
field trip
The kids decided what to shoot in a brain storming session, then we went out for an hour on Berkeley's campus    
tower photos
animals, birds, squirrels, bugs, lizards, snake, dogs
portraits, homelsess, students, construction workeers, activists, staff
trees, oak, redwood
flowers, sunflowers
architecture, modern, classical, gothic, arts and crafts
art, sculptures, paintings
post processing
levels
curves
filters
composition
back lighting
move close to the subject / fill the frame
rule of thirds
eliminate background distractions
texture
viewing angles / perspective
leading lines
use selective focus when appropriate
use frames within the photograph of scenic views
use people in the foreground of scenic views
ratios
ASA (iso)
aperture
shutterspeed
camera care
moisture
fingerprints
dust / dirt
drops
portfolio 5 prints
Properly balanced, turned in at the end of day two.
Day 1
Biology
eye
brain
analogues, eye camera, brain computer, prostetics, hardware upgrade, transport, computation, communication
Photoshop techniques
Tool overview, marquee, aspect ratio, normal, specify size, lasso, brush, pencil, eraser, healing brush, crop
layers, history, opacity, naming convention
Technology
photographic, film, negative, positive, digital, CMOS, CCD, alternate process, Van Dyke brown, cyanotype, paint on emulsion, printmaking, screen print, photo graviere, pinhole
computing, counting machine, invention of zero, abacus, slide ruler, calculator
Internet
Recording Life
The main job of photography
evolution of perspective
evolution of art history, Key historical images, Dorthea lange, Yves Klein, Man Ray
Day three
work day
Creative photoshop day
humor
politics
fine art
documentary
photojournalism