A Interactive Children's Book
by
Luis Francisco Baroni Coutinho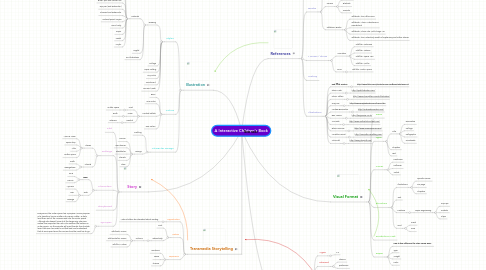 0.0
stars - reviews range from
0
to
5
Audience
Ages
7-9
interest
choices
preference
lifestyle
end goal
experience goal
life goal
gender
boys
girls
personality
life goal
other users
relationship to audience
Illustration
Styles
Drawing, Materials, Mixed Media, Watercolor, Brush, pen and colored ink, Dip pen (and watercolor), Charcoal and watercolor, Colored pencil crayon, Pencil Only, Paper, Pastel, Acrylic, Digital, 3D illustrations
Collage
Paper cutting
Dry Color
Translucent
Line and Wash
Colors
B&W
One Color
Limited Pallete, Cool, Outter Space, Warm, Earth, Neutral, Interiors
Two Colors
Character Design
Profiling
Beings, Human, Non-human, Blackholes, Planets, Stars
Story
Plot
Settings
Places, Marcus' room, Space ship, Attic, Outter Space
Planets, Earth, Georgetown
Characters
Main, Suuz, Marcus
Side, Myriana, JOE, George
Storyboard
Synopsis
Everyone in the Outer Space has a purpose. Suuz's purpose is to transform human matter into cosmic matter. To help lead them out of the Universe and into the Outer Space. Although she doesn't know it at the beginning, she soon realize how important her role is to maintain the balance in Outer Space. On the way she will meet friends, face trouble, learn that even her sister is not that bad, and understand that at some point even the one we love the most has to go.
References
Publishers
Chronicle Books
Random House
Harper Collins
Simon & Schuster
Puffin Books
Books
General, Exquisite Book, Cobain Unseen, Audrey Hepburn Treasures
Comics, Persepolis, Blankets, Peanuts
Children's Books, The Little Prince, Alice's Adventures in Wonderland, Where The Wild Things Are, The Melancholy Death of Oyster Boy and Other Stories
Movies / Show
Animation, Futurama, Jetsons, Space Jam, Wall-E
Sci-Fi, Lost in Space
History
Illustrators
Mid 20th century, http://www.flickr.com/photos/91502146@N00/sets/859713/
Steve Mack, http://spotillustration.com/
Oliver Jeffers, http://www.oliverjeffers.com/#/illustration/
Suzy Lee, http://www.suzyleebooks.com/home.htm
Andrew Bannecker, http://andrewbannecker.com/
Ben Javens, http://benjavens.co.uk/
Jim Datz, http://www.neitherfishnorfowl.com/
Blanca Gomez, http://www.cosasminimas.com/
Annette Marnat, http://marnette.canalblog.com/
Julia Pott, http://www.juliapott.com/
Visual Format
Sizes
Type
Title, Decorative, Collage, Calligraphic, Handmade
Chapters
Text
Cover
Hardcover
Softcover
Jacket
Structure
Illustrations, Specific scenes, Per page, Chapters
Text
Features, Paper Engineering, Pop-ups, Pockets, Flaps
Grid, Fixed, Free
Production cost
Paper
Can it also influence the story some way?
Type
Weight
Color
Transmedia Storytelling
Opportunities
Make Children be interested about reading
Medium
Print
Interactivity, Online?, Comic, Game, Motion
Experience
emotions
sense
choices
New node