Innovation & Agility
by
Sparky Jones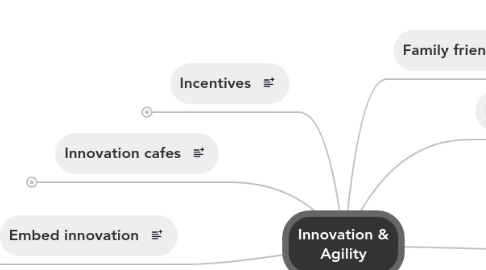 5.0
stars -
1
reviews range from
0
to
5
Innovation & Agility
Institute an organisation support structure that fosters innovative thinking that can be achieved through various methods
Institute / foster environment for innovative thinking - where employees are allowed to fail (but fail quickly) - what are the acceptable parameters?
Rewards, recognition - Provide incentives (eg. rewards for involvement in innovation forums - eg best idea etc); pay them in non-monetary things e.g. responsibility
Innovation Zone - dedicated intranet site where ideas can be lodged for consideration (by Innovation Office).
Idea allowance - where ideas (that have been qualified / selected) are provided with funding (including time) to further develop
'Dragon's Den' - the 'Dragon's Den' refers to an organisaed session / forum where ideas for improving Fortescue are 'pitched' / presented to a panel for assessment.
Streamline innovation review & approval process - remove frustration of ideas taking months to percolate through the organisation
Allow resourcefulness by giving people permission to address the unforseen in an innovative way
'Seed' innovative ideas in the organisation (eg. management buy-in and leadership) & track their diffusion throughout (eg. benefits realisation).
Allow people to champion their own ideas - don't submit ideas & expect them to be handled by someone else.
Instill a culture of improvement by starting each meeting with an "Improvement Idea"
Provide innovation training to Fortescue family - methods and processes to develop innovative ideas (eg. through Innovation Forums / Cafes).
Embrace innovative technologies
Embracing innovative technologies will show the progressiveness of the organisation and being at the 'forefront' / cutting edge - be known as the most progressive in technology & thinking.
Early Adopter
Be the quickest to adopt emerging technologies (do other industries present opportunities?)
Social networking
Enhance ability to inter-connect between employees.  Examples include: twitter, social networking - facebook, office communicator, ipad, mobile applications.
Innovation Office
Dedicated business unit dedicated to leading / providing oversight to all innovation initiaitives.
Chief Innovation Officer
Led by a Chief Innovation Officer (chairing a Senior Innovation Board).
Heavy focus / emphasis on innovation and fostering entrepreneurship
Translating ideas from any type of mining into iron ore mining - roles accountable for gathering these ideas.
Fostering and instigating Think Tanks that are dedicated to problem-solving and research.
Innovation cafes
Dedicated business unit dedicated to leading / providing oversight to all innovation initiaitives.
Idea generation
Structured format whereby ideas are generated in a café style environment with table captains
Ideas generated are built upon by others in the café - generating ideas on ideas
Innovation cafés are structured around a specific problem statement or organised themes.
Operating structure
Consider the organisation's operating structure - changes can be made to facilitate innovation.
Entrepreneurial vs conservative
Separate operation from idea generation/expansion/adoption. 2 sets of executives: fun, entrepreneurial team vs. conservative, pragmatic team.
Give more autonomy to teams (more responsibility/delegation) or break the organisation into small teams/facilities (Autonomous / autocratic small teams: 6-10)
Rotating team leads between / within a business unit or function (or between locations).
Remove rigid hierarchies (potentially flatter structures)
Create hubs (work cells) within organisation structure (especially applicable for larger teams).
CEO Leadership
CEO leadership: demonstrate innovative thinking and leading by example
Innovation campaigns
Kick off campaigns that support and prompt innovation within the organisation.
Visibility of / leadership from CEO regarding Innovation and Entrepreurship - and the importance of these qualities within Fortescue.
Embed innovation
Embed a culture of innovation in the fabric of the organisation.
Mission, Vision, Values
Clear articulation of innovation culture in Fortescue's Mission, Vision & Values.
Risk culture
Understand and articulate Risk culture framework
Mission statement
Requires re-ordering of mission statement - Be known for something other than iron ore; Communicate that there are no ideas too small (eg. Toyota's kaizen system)
Incentives
Providing employees with incentives for being innovative.
Competitions
Run competitions that provoke innovative thinking / ideas generated around specific topics (rewards / recognition)
Campaigns that address a certain 'hot topic' / business issue can be used to generate ideas from the Fortescue family.
Key Performance Indicators (eg. linked to remuneration) enforcing and promoting innovation in the organisation.
Business Unit leaders encouraging the development of ideas within their teams and providing a conduit for expressing these to the rest of the organisation.
Monthly case studies showcasing ideas that have been implemented (recognition of success) - how these have been embedded and benefited Fortescue.
Hire innovative people
Hiring innovative people can be a positive influence on an organisation's innovation culture.
Innovative qualities
Having a good understanding of what it means to be an innovative leader / person will be crucial for this process.
Job descriptions
Embedding the attributes of being innovative into the job descriptions.
Embed innovation into the performance structure
Embedding innovation into the organisation's performance structure to positively reinforce the importance of innovation.
Innovation KPIs
Identify and develop measurable KPIs with respect to innovation - embedding into the performance cycle.
Differentiate through a strong meritocracy - make a big deal about promotions, promote 'smart' / extremely capable people as early as possible
Identify "problem children" and performance counsel (address quickly and weed out problems).
Regular Town Halls
Regular Town Halls with Andrew (and CXO suite).
Mine progress
Provide updates on mine progress and milestones achieved.
Discuss innovation and provide updates on innovative ideas, get excited about ideas (provide visibility and recognition of success).
Allow direct input from employees - an avenue for providing feedback to the Townhall, and processing and addressing these (eg. directed to relevant parts of the organisation).
Public recognition and acknowledgement of innovative ideas and how these have been embedded and implemented successfully in the organisation.