Evaluating community informatics (C I) for development of local democracy
by
Aida Brolo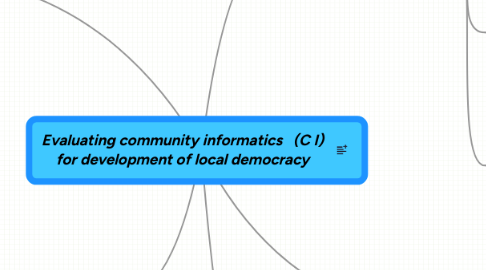 0.0
stars -
0
reviews range from
0
to
5
Evaluating community informatics (C I) for development of local democracy
This is just a demo map that you can delete right away, if you feel like it...
Geographical orientation
Examines a wide range of ITC (information and communication technology) activities and aplications.
By local community groups
For meeting their social, cultural,economic and political goals.
Extends and enhaces the work of traditional community media
Example CI initiative: Moseley Egroup
Located at:
Based in:
Included:
Provided:
Aspects of the egroup that limited their goals
Goals
Development of strong local democracy
Notions of the public sphere
Develop citizen participation in local decision making
Origins
Preexisting disciplines: Computer science Management Sociology Education Development studies Social policy studies
CI's limiting factors
Potential for disseminating relevant or irrelevant information
Potential to reinforce forms of social exclusion
Concerns of political bias
Patterns of E-mail posting
Setting agenda based on the concern of the members themselves.