Three Peaks Challenge
by
Nicholas Llewellyn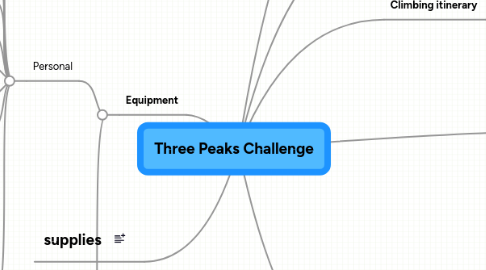 0.0
stars -
0
reviews range from
0
to
5
Three Peaks Challenge
Equipment
Personal
rucksack, water, bivi bag/orange bag, sleeping bag, food, sweets, chocolate, hot drink
boots
thick socks x2
fleece
waterproofs
hat
gloves
whistle
torch
mobile phone, spare battery?
Suggested, stove, mess tin, mug, medical kit, plasters, steri strip, bandage, sling, anti-septic cream, Nonsteroidal anti-inflammatory drugs, or NSAIDs, paracetamol, antihistamine
group
laminated map
compass
Travel
Travel was organised through Anna Thomas, but the route changed which made it impossible for us. We will need to provide our own.
Vehicle mileage
Cost
Time
If transport beweeen peaks already provided
Flight Cardiff to Glasgow £45
Transport beweeen peaks already provided
Flight Anglsey to Cardiff £40
Fund Raising
JustGiving
Campaign wave 1, Complete £290, Full target list
Campaign wave 2, Change of date, More time to raise cash, Thank them for their sponsorship amount
Hand sponsorship
Climbing itinerary
Previous schedule
Maps
Timings
Accomodation
Bunkhouse
Sarah Claridge - Paul
In the transport?
Attendees
Gwion Evans
Confirmed
Equipment check
Nicholas Llewellyn
Confirmed
Equipment Check
Sarah Claridge
Invited 11/05
Justin Rowe
Invited
Kevin Robbins
Invited
Rhian Robbins
Invited
supplies
lots of drinks (water, lucozade etc) snacks high energy cereal bars and emergency mars bars