STATIC ELECTRICITY Done By, Eugene Yeo (33) 4Engineering
by
Eugene Yeo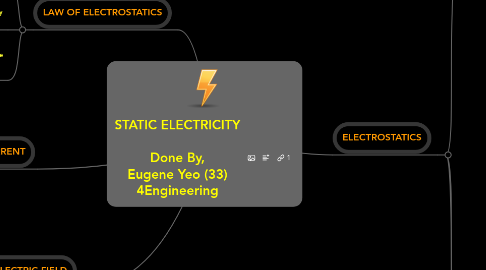 0.0
stars - reviews range from
0
to
5
Done By Eugene Yeo (33) 4 Engineering Physics Chapter 16 Static Electricity
LAW OF ELECTROSTATICS
Static Electricity is defined as an electrical charge caused by an imbalance of electrons on the surface of a material. This imbalance of electrons produces an electric field that can be measured and that can influence other objects at a distance.
Static electricity happens when the amounts of positive and negative electric charges within a material are not perfectly equal.
The law of electrostatic states that like charges repel and unlike charges attract.
CURRENT
Electrical charges include electrons, protons and ions.
Electric current is the flow of charges from the positive end to a negative end
ELECTROSTATICS
Charging
Uses of Electrostatics
Dangers of Electrostatics
ELECTRIC FIELD
An electric field is a region where an electric charge experiences an electric force
It can be illustrated by drawing electric lines of forces
Properties