MOBILE ADVERTISING by Sami Birch
by
Sami Birch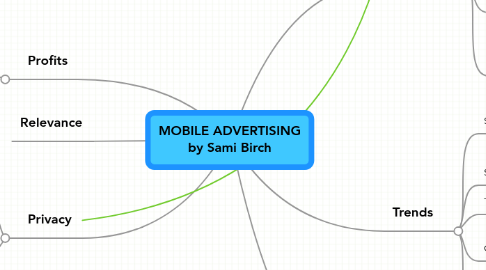 0.0
stars - reviews range from
0
to
5
MOBILE ADVERTISING by Sami Birch
Attitudes
Marketers
Consumers
Tsang, Melody M., Ho Shu-Chun, and Liang Ting-Peng. "Consumer Attitudes Toward Mobile Advertising: An Empirical Study." International Journal of Electronic Commerce 8.3 (2004): 65-78. Business Source Complete. EBSCO. Web. 17 Feb. 2011.
Koo, Wanmo, M.S. "Generation Y Attitudes on Mobile Advertising: Impacts of Modality and Culture". August 2010. University of North Texas. Web. 15 Feb. 2011
Profits
Costs
Effect on Marketing Strategies
Privacy
Permission Based Advertising
Flaherty, Theresa, and Irvine Clarke. Advances in Electronic Marketing. Hershey, PA: Idea Group Publishing. 2005. Print. (139-152)
Trends
SMS
Smartphones
Tablets/iPads
GPS
Anonymous. "Multimedia, Online, Internet; Increased Use of Mobile Marketing Continues Into 2011." Marketing Weekly News. Feb. 2011. Web. 15, Feb. 2011.
Relevance