MOBILE ADVERTISING by Sami Birch
by
Sami Birch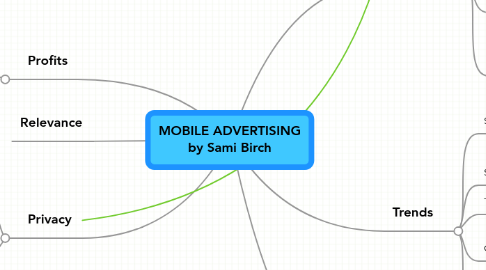 0.0
stars - reviews range from
0
to
5
MOBILE ADVERTISING by Sami Birch
Attitudes
Marketers
Consumers
Personal Experience
Statistics, Many see SMS ads as "ad-clutter"
Tsang, Melody M., Ho Shu-Chun, and Liang Ting-Peng. "Consumer Attitudes Toward Mobile Advertising: An Empirical Study." International Journal of Electronic Commerce 8.3 (2004): 65-78. Business Source Complete. EBSCO. Web. 17 Feb. 2011.
Koo, Wanmo, M.S. "Generation Y Attitudes on Mobile Advertising: Impacts of Modality and Culture". August 2010. University of North Texas. Web. 15 Feb. 2011
Profits
Costs
Projected to reach $2 billion in 2011 Source: Anonymous, . "Mobile Advertising Projected to Reach $2 Billion in 2011. " Book Business 1 Jan. 2011: ABI/INFORM Trade & Industry, ProQuest. Web. 17 Feb. 2011.
Effect on Marketing Strategies
Privacy
Permission Based Advertising
Flaherty, Theresa, and Irvine Clarke. Advances in Electronic Marketing. Hershey, PA: Idea Group Publishing. 2005. Print. (139-152)
Trends
SMS
Gauzente, Claire. "Does anybody read SMS-advertising? A qualitative and quantitative study of mobile users' attitudes and perceived ad-clutter." International Journal of Technology and Human Interaction 6.2 (April-June 2010): 13(17). Academic OneFile. Gale. Grand Valley State University. 17 Feb. 2011
Smartphones
Tablets/iPads
GPS
Tang, Justin, and Nate Gertsch, et al. "Ad As You Go: A Study of Ad Placement on Personal Navigation Devices". No Date. 1-5. Web. 15 Feb. 2011.
Anonymous. "Multimedia, Online, Internet; Increased Use of Mobile Marketing Continues Into 2011." Marketing Weekly News. Feb. 2011. Web. 15, Feb. 2011.
Relevance