Copy of FACULTY
by Deepika Jay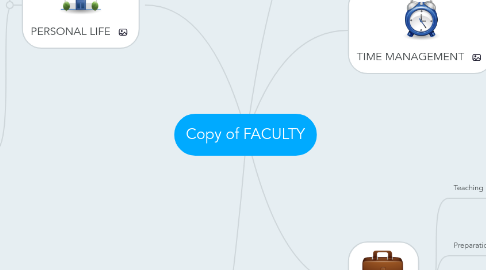 1. TIME MANAGEMENT
1.1. Punctuality
1.1.1. disciplined manner of scheduling work
1.2. Organizing priorities
1.2.1. planning the lessons and presentations on time
1.3. Pre- plan assignments
1.3.1. preparation of home assignments and projects well ahead of time.
1.4. Plan for potential crisis
1.4.1. prepared for emergency situations
1.4.2. confident and supportive during unforeseen changes in educational system.
1.5. Avoid procrastination
1.5.1. keep track of deadlines
1.5.2. monitor the students progress and motivate to finish assignments on time.
2. WORK
2.1. Teaching
2.1.1. maintain simple yet creative teaching methodology
2.1.2. clarity of subect
2.1.3. understand the mindset and grasping power of students
2.2. Preparation of study material
2.3. Evaluation
2.3.1. fair assessment
2.3.2. innovative methods of evaluation on regular intervals
2.4. Class Management
2.5. Stress
2.6. Build positive relationship
2.6.1. a good rapport with fellow faculties
2.6.2. encouraging & motivating students
2.6.3. parent-teacher relationship
3. SKILLS
3.1. Leardership
3.1.1. support colleagues
3.1.2. responsible
3.1.3. motivate
3.2. Mentoring
3.2.1. understand students mindset
3.2.2. guide students in the right way
3.3. Understanding
3.4. Communicative
3.4.1. confident
3.4.2. clarity in delivering the essence of the subject
3.4.3. creative and spontaneous
3.5. Organisational
4. PERSONAL LIFE
4.1. Interests
4.1.1. music
4.1.2. dance
4.1.3. photography
4.1.4. sports
4.1.5. technological gadgets
4.1.6. news
4.2. Personal care
4.2.1. maintaining health
4.2.2. planning future commitments
4.2.3. fitness
4.2.4. Beautification
4.2.5. doctor appointments
4.3. Family
4.3.1. bonding
4.3.1.1. siblings
4.3.1.2. relationships
4.3.1.3. emotions
4.3.1.4. playing together
4.3.1.4.1. outdoor games
4.3.1.4.2. indoor games
4.3.1.4.3. teaming u against one another
4.3.1.4.4. teasing
4.3.1.4.5. fun
4.3.1.4.6. laughter
4.3.2. outing
4.3.2.1. movies
4.3.2.2. long drives
4.3.2.3. shopping
4.3.2.4. get togethers
4.3.2.5. trips
4.3.3. food
4.3.3.1. balance diet in work life
4.3.3.2. exploring new eating joints
4.3.3.3. plan the menu
4.3.4. care as parents
4.3.4.1. motherhood
4.3.4.2. attention
4.3.4.3. pampering
4.3.5. understanding
4.3.5.1. values
4.3.5.2. traditions
4.3.5.3. discipline
4.3.5.4. priorities
5. SELF DEVELOPMENT
5.1. Career growth
5.2. Creative ideation
5.3. Enhance teaching methodologies