Copy of Flipping Lease Options
by Randall Bal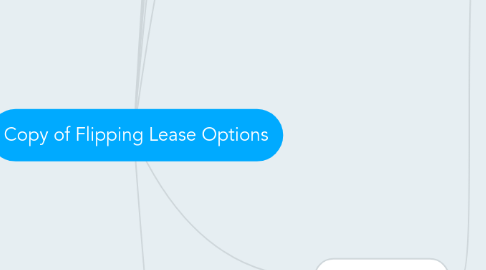 1. The 3 Offers
1.1. Calculator
1.2. 1) Cash
1.2.1. 70% of ARV - Minus Repairs - Wholesale Fee
1.2.2. ARV = Zillow / Epraisal / RealQuest, whichever is lower / average
1.2.3. Repairs = $5/SF, $10/SF, $15/SF
1.3. 2) Sandwich Lease Options
1.3.1. ARV x 85% - repairs
1.3.1.1. "I can get you the same equity you would get if you sold thru a Realtor."
1.3.2. Min Cash Flow = $300/mo (25% of the rent)
1.3.3. Min 5 years
1.3.4. If they owe too much, maybe give them an option price of whatever the loan balance will be in 10 years (as long as there is cash flow)
1.4. 3) Lease Option Assignment
1.4.1. Whatever they want
1.4.2. Market rent
1.4.3. Min 2 years
1.5. Credibility Kit / Offer
1.5.1. Lease Option Proposal (note: Download this as a MS Word document)
1.5.2. References
1.5.2.1. Realtor
1.5.2.2. Attorney
1.5.2.3. Title Company
1.5.2.4. Property Manager
1.5.2.5. Mortgage Broker
1.5.2.6. Credit Repair
1.5.2.7. BBB
1.5.2.8. Chamber of Commerce
1.5.2.9. Other Investors
1.5.2.10. Other Clients
1.6. Example deal 1
1.6.1. Seller wanted $150,000
1.6.2. They owed $145,000
1.6.3. PITI Payments $1,100/mo
1.6.4. Market Rent: $1,200/mo
1.6.5. Expired listing
1.6.6. Nice home in a nice area
1.6.7. Didn't need any repairs
1.6.8. They had a job transfer.  Did not want to be landlords
1.6.9. My offer:
1.6.9.1. 1) Cash: $95,000
1.6.9.2. 2) SLO:
1.6.9.2.1. Option Price: $127,500
1.6.9.2.2. Rent to Seller: $900/mo
1.6.9.2.3. Term: 5 years
1.6.9.3. 3) Assignment:
1.6.9.3.1. Option Price: $145,000
1.6.9.3.2. Rent: $1,200/mo
1.6.9.3.3. Term: 2 years
1.6.10. They took #3 (Assignment)
1.6.10.1. I assigned that contract to a great tenant-buyer for a $4,500 assignment fee
1.6.10.2. My Realtor (Leasing Agent) found a Tenant-Buyer that needed 12 months to get their credit fixed
1.6.10.3. My mortgage broker & credit repair guy is working with them
1.6.10.4. I am done, out of the deal
2. How to Sell a Lease Option Home
2.1. Exit Strategy
2.1.1. Remember, you make your money when you buy, not when you sell
2.1.2. When doing lease options, never buy a house before you sell it
2.1.3. Don't make payments until you have a buyer
2.2. Best places to advertise for buyers
2.2.1. Craigslist
2.2.1.1. Try to come up with 3-4 COMPLETELY different ads
2.2.1.2. Post them every 2 days
2.2.1.3. Watch out for "ghosting"
2.2.1.4. Fiverr
2.2.1.5. Good sample Craigslist ads
2.2.2. Zillow Rental Manager
2.2.2.1. For Rent
2.2.2.2. FSBO
2.2.3. Signs
2.2.3.1. Signs will always get you the best response.  Put 10-20 signs out in the neighborhood (every weekend) of every house you have and you  will get flooded with calls
2.2.3.2. My Main Sign
2.2.3.3. Other Examples
2.2.3.4. I like simple, yellow, handwritten.
2.2.3.5. 4 lines - "OWNER WILL FINANCE" - "BAD CREDIT OK W/ $5,000 DOWN" - "3/2/2 huge backyard" - "555-555-5555"
2.2.4. Rent To Own Tear Off Flyer
2.2.5. Generic Rent To Own Flyer
2.2.6. Sample Classified Ads
2.2.7. Notes about ads
2.2.7.1. Things your ads could say
2.2.7.1.1. "Lease To Own"
2.2.7.1.2. "Rent To Own"
2.2.7.1.3. "Everyone is qualified"
2.2.7.1.4. "Poor Credit OK"
2.2.7.1.5. "Forget the banks."
2.2.7.1.6. "You're approved"
2.2.7.1.7. "We will help you fix your credit"
2.2.7.1.8. "We understand bad things happen to good people. You can have a second chance."
2.2.7.1.9. "Rent now, buy later."
2.2.7.2. Try to do "For Rent" and "For Sale" ads
2.2.7.3. Create an ad for every 2 days to be posted on Craigslist.
2.2.8. If you don't find a TB in 3-4 weeks, something is wrong
2.2.8.1. Rent is too high
2.2.8.2. Property is ugly
2.2.8.3. Needs too much work
2.2.8.4. Not advertising it properly
2.2.8.5. Rough neighborhood
2.2.8.6. It's not where people want to live
2.2.8.7. You might be asking too much for Option Consideration
2.2.8.8. Seasonal? Holidays are tough sometimes
3. Contracts & Forms
3.1. NOTE: It is important to remember that you should always have an attorney that is local to your area, and understands creative real estate, to review all these contracts. There may be certain language in these contracts that are illegal in your market. PLEASE have an attorney review these before you use them.
3.2. The Contracts
3.2.1. Short Offer Form
3.2.2. Lease Option Assignments
3.2.2.1. Consider having Angello Russo from Avalaon Escrow do your contracts for you. $500
3.2.2.2. Escrow Agreement.pdf
3.2.2.3. Investor Assignment.pdf
3.2.2.4. Lease DS.pdf
3.2.2.5. Option Purchase Real Estate DS.pdf
3.2.3. Sandwich Lease Options
3.2.3.1. With The Seller
3.2.3.1.1. Lease Option Agreement - For Sandwich Lease Options
3.2.3.1.2. Purchase and Sales Contract
3.2.3.1.3. Memorandum of Option
3.2.3.1.4. Seller's Disclosure Statement
3.2.3.1.5. Authorization To Release Information
3.2.3.1.6. Lead Based Paint
3.2.3.1.7. Power of Attorney
3.2.3.2. With The Tenant-Buyer
3.2.3.2.1. Again, I recommend using Avalon's docs, or hiring your own attorney & use their docs... (Or better yet, give them these docs to review & modify.)
3.2.3.2.2. Lease
3.2.3.2.3. Option Agreement
3.2.3.2.4. Purchase and Sales Contract
3.2.3.2.5. Lead Based Paint
3.2.3.2.6. Seller's Disclosure Statement - just initial the one that the Seller gave you and have the new TB initial it
3.2.3.2.7. Pet Agreement
4. What is a "Lease Option"?
4.1. Lease for a period of time
4.2. With the Option to buy in the future
4.3. Control without ownership
4.4. Benefits
4.4.1. For Sellers
4.4.1.1. A lot of sellers still today CANNOT sell their house
4.4.1.2. They may not have enough equity
4.4.1.3. Or they may be upside down
4.4.1.4. They get to rent their house to someone who wants to BUY it
4.4.1.5. They don't have to deal with typical landlord headaches
4.4.1.6. Bottom line - they can walk away with more money than if they sold the traditional way
4.4.1.7. Good book for Sellers
4.4.1.7.1. Wendy Patton: Rent-to-Sell: Your Hands-on Guide to SELL Your Home When Buyers are Scarce
4.4.2. For Tenant-Buyers
4.4.2.1. They can "try out" a house before they buy it (Control without Ownership)
4.4.2.2. They can get part of their rent back as a "rent credit"
4.4.2.3. They get to lock in a great price, on a nice house in a nice area
4.4.2.4. Gives them time to rebuild their credit and get a good mortgage
4.4.2.5. They don't have to move again after they repair their credit
4.4.2.6. Good book for Tenant-Buyers
4.4.2.6.1. Rent-to-Buy: Your Hands-On Guide to BUY Your Home When Mortgage Lending is Tight
4.4.3. For Investors
4.4.3.1. I wanted a business that would...
4.4.3.2. Gives me the same income doing it part-time that a full-time job would give me
4.4.3.3. Doesn't cost any money to start
4.4.3.4. Can produce immediate AND consistent cash flow
4.4.3.5. Can help me get out of debt AND create long term capital wealth
4.4.3.6. Has VERY low risk (if any)
4.4.3.7. Allows me to run the business from home and from anywhere in the world
4.4.3.8. That was honest, simple, and has low overhead
4.4.3.9. It helps people and benefits the community
4.4.3.10. Was FUN to do
4.4.3.11. Gave me the luxury of spending more time with my family
5. Misc Notes
5.1. You are not in the real estate business, you are in the marketing business
5.2. The Two Sins...
5.2.1. The Sin of Complicating This Business
5.2.1.1. There are really only 3 things you need to do deals...
5.2.1.2. Marketing
5.2.1.3. Talk to sellers
5.2.1.4. Make offers (and follow up)
5.2.1.5. Everything else is secondary
5.2.2. The Sin of "Anticipatory Thinking"
5.2.2.1. The sin of over complicating it
5.2.2.2. Stop focusing on steps 7-8. Just focus on Steps 1 & 2
5.2.2.3. Stop asking "What If?" and start asking "What's Next?"
5.2.2.4. You don't have to have all your questions answered. In fact, you never will
5.2.2.5. Progress not perfection
5.2.3. You need to stay FOCUSED on the basic things & get really good at them.
5.2.4. Do what your competition is not doing
5.2.4.1. Not having a marketing plan & scorecard
5.2.4.2. Picking up the phone
5.2.4.3. Making offers to every seller you talk to
5.2.4.4. Follow up with every lead at least 100 times
5.3. Licensing Issues
5.3.1. Should you get your license?
5.3.2. You can do lease options as a realtor
5.3.3. Always approach deals like you're going to stay in the middle.
5.3.4. Hire a Realtor to market your house for you
5.3.5. I am not an attorney - always seek legal advice from a local, creative real estate investing friendly attorney
5.4. Check out these podcasts about Lease Options
5.5. Some good books in Amazon on Lease Options
5.5.1. Wendy Patton Book 1
5.5.2. Wendy Patton Book 2
5.5.3. Buy Low, Rent Smart, Sell High
5.5.4. Turnkey Investing With Lease Options
5.5.5. How to Make Money With Real Estate Options
5.5.6. Buying Real Estate Without Cash or Credit
5.5.7. Making Big Money Investing in Real Estate: Without Tenants, Banks, or Rehab Projects
5.5.8. How to Create Multiple Streams of Income: Buying Homes in Nice Areas With Nothing Down
6. How To Find The Best Sellers To Target
6.1. Trulia Heat Maps
6.2. Median Home Price & Above
6.3. Nice homes, nice areas
7. Talking to Sellers
7.1. Ask simple questions / script
7.1.1. The main three
7.1.1.1. 1) What's your situation?
7.1.1.2. 2) What would you like to see happen?
7.1.1.3. 3) If I can make that happen, how quickly would you like to sell?
7.1.1.3.1. If I can make that happen, could we do business today?
7.1.1.3.2. If I can make that happen, what would you want to do next?
7.1.2. "Sounds like such a nice house, why haven't you sold it yet?"
7.1.3. "What are you going to do if you can't sell this property? Rent it?"
7.1.4. "Why would you even want to sell it?"
7.1.5. "I am looking for a nice property in a nice area. Do you mind if I ask you a few questions about your house to see if it would even be something I would be interested in?"
7.1.6. "I am an investor, looking for a nice property that I can lease for a few years and buy. That wouldn't work for you, would it?"
7.1.7. "It's okay if you tell me no, Mr Seller. This isn't for everyone."
7.1.8. "What if I could lease your property for a few years, take care of all the maintenance and repairs, pay the rent whether the property is vacant or not, (so you don't have to be a landlord anymore), and then buy the house at the end, without you paying any Realtor commissions, what would you want to do then?"
7.1.9. "You wouldn't be open to leasing the house to me for 1-2 years, and then selling it to me, would you?"
7.1.10. "Would that work for you, or probably not?"
7.1.11. "What if I could... what would you want to do then?"
7.1.12. "Since you have no equity in the house, I can't buy it right now. But fortunately for you, I have a plan to get you out of your house if you wish. Would you like to hear it?"
7.1.13. Before you go to the house...
7.1.13.1. "Mr. Seller, if I come out to your house today, and we can agree on terms, are you ready to sell your house today?"
7.1.13.2. "So if all this sounds okay, I'll come to your house and answer all your questions, we can iron out some terms, and if it all looks okay, we can get the simple paperwork done while I am there. OK?"
7.1.14. Simple script from Brian Gibbons
7.2. Answering Common Lease Option Objections
7.2.1. Keep it simple
7.2.2. Smile, call them by name, say you understand their concern, turn it back around with another question
7.2.3. "Susan, I can understand why that would be a concern to you. I wouldn't want to have to worry about that either if I was in your shoes. What if I could show you a way where you wouldn't have to worry about that anymore. What would you want to do then?"
7.2.4. Or, "..... Can I ask why you are concerned about that?" Or, "Has that happened to you before?"
7.2.5. Or, "I understand your concern. What would make you more comfortable and yet protect us both?"
7.2.6. "Are you saying that if... we can't do business today?"
7.2.7. What if the tenant-buyer tears up my house?
7.2.7.1. I'll fix it
7.2.7.2. There's no way I can guarantee that they won't. I won't be living with them.
7.2.7.3. However, if that were to happen, I can promise you that I would fix it at my own expense.
7.2.7.4. My objective is to find a good, stable tenant who wants to buy this house.
7.2.7.5. This kind of tenant is rarely a problem
7.2.7.6. Remember - these are not regular tenants. They are people who want to buy the home and make it theirs.
7.2.7.7. But again, if it does happen, I will take care of it - as per our written agreement
7.2.8. How do I know I can trust you?
7.2.8.1. I can understand that. We just met. Remember, you called me in hopes that I could create a solution that would work for both of us.
7.2.8.2. I am willing to sign the bottom line on this contract that I will devote my time and resources to take care of this house. I have a lot at stake as well in making sure this goes well.
7.2.8.3. But I will only sign this agreement with you if you feel 100% comfortable with this arrangement.  If you don't, let's not do this. Is that fair?
7.2.8.4. Let's examine your alternatives...
7.2.8.5. If I do what I promise to do, your monthly mortgage payment will be paid, your house will maintained and hopefully sold for cash. If I don't do that, I am just leasing your property and sub-leasing it out. You could simple evict me and be no worse off than you are now.
7.2.8.6. Sure things could go wrong. But remember, I don't get paid until the end, unless I produce.
7.2.8.7. Would you like some references of people I work with - previous sellers, my attorney, my insurance agent, my realtor, my property manager, etc?
7.2.8.8. (Note: try to become a member of the BBB)
7.2.9. How do I know you will make my mortgage payments? (Or send the rent to my mortgage company)
7.2.9.1. We can handle that several ways...
7.2.9.2. I can send you a check every month, made out to your lender, and you can mail it in
7.2.9.3. Or, we can use a third party escrow company that will withdraw the rent from my business account every month, and send it directly to the bank for us. They will send you a receipt every month.
7.2.9.4. You will know if I don't pay because you will get a late notice from the lender.
7.2.9.5. Which would you prefer?
7.2.10. Why won't you make all my mortgage payment? (if the rent you are offering (A-B) is lower then their mortgage payment)
7.2.10.1. Your house can't afford it
7.2.11. Why won't you make my next payment, instead of waiting 2-3 months?
7.2.11.1. I need time to find a well qualified tenant-buyer who will buy your home.
7.2.11.2. You do want me to find a reliable tenant-buyer who will buy your home, right?
7.2.11.3. If the still make a fuss... "Are you saying if I don't make your next mortgage payment, we can't do business today?" (Cut to the chase)
7.2.11.4. If this is still an objection... "How about this... If I can find a tenant-buyer before the next payment is due, I will pay the rent. If not, you will make the payment."
7.2.11.5. Or... "How about I give you a "flex option" contract... If you sell or lease the property before I find a good tenant-buyer, you can cancel my agreement and you will owe me nothing."
7.2.12. Why do you need such a long lease option term?
7.2.12.1. Because sometimes it takes a while for a tenant-buyer to qualify for a mortgage, for several reasons
7.2.12.2. They may need time to raise up enough down payment. Maybe they need time to clear up a credit problem.
7.2.12.3. I just won't be put into a position where I have to force a buyer to buy before they're ready. It takes time. Is that reasonable?
7.2.12.4. Besides, how long do you want me to make your payments, and be responsible for the repairs?
7.2.12.5. If they're still objecting... "I am sorry, but a 3 (or 5) year term is the least I'd be willing to accept. Are you saying that you'd rather not do business today than go 5 years?"
7.2.13. When will you sell the house?
7.2.13.1. I can't give you an exact time. It will be up to the tenant-buyer to make a decision within the time frame they have.
7.2.13.2. I can tell you this... I get paid when they buy, so obviously, I will be pushing them to do so. In the meantime, your payments will be made on time. That's the most I can promise. Will that work for you?
7.2.14. I think I will just list with a Realtor.
7.2.14.1. That's certainly your option. But obviously a Realtor won't be making your payments for you while they sell your home.
7.2.14.2. I am willing to make your payments, sell your house, and maintain it while I am involved.
7.2.14.3. I will give it my personal attention, and you can virtually forget the house until the Title Company sends you a check and a closing package to sign. (And you won't have to pay me a commission.)
7.2.14.4. If they still object... "Listen, I have several qualified tenant-buyers right now, looking for homes in this area. But if you would prefer listing with a Realtor, perhaps that's what you should do. Call me if it doesn't work out.
7.2.14.5. You can still list it with a Realtor, just make sure you list me as an exclusion
7.2.15. I want my attorney to review your contracts first.
7.2.15.1. Of course, that's fine. Let me ask you something first... what is it that you don't feel comfortable with? Should I go over it again?
7.2.15.2. If your attorney says the agreement is legal, are you ready to proceed?
7.2.15.3. Give me his name and number, and I will gladly send it to him right now.
7.2.16. Why don't you give me a larger option deposit?
7.2.16.1. All I am asking for is your key to show the house, an address to send the rent every month, and the right to buy your house in several years without you paying any commissions - all at my expense & risk.
7.2.16.2. Do you see any way you can lose?
7.2.16.3. In fact, if you lease your house before I do, you can cancel my agreement & tear it up.
7.2.16.4. (Note: make sure you check your local laws if there is any minimum option consideration for a lease option contract to be valid.)
7.2.17. Your offer isn't enough.
7.2.17.1. Just reply... "My offer is not enough?" Then look at them and don't say another word.
7.2.17.2. It could be that the offer isn't enough money up front, or it's for too many years
7.2.17.3. You're putting it back in their court to tell you what their real objection is
7.3. Roll Play