BLC 08
by Daniel French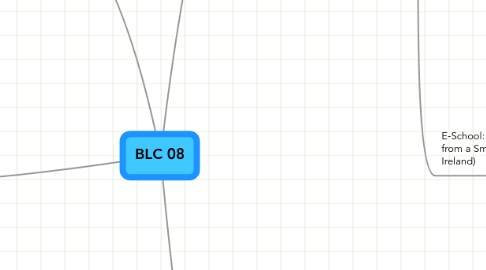 1. Dan French
1.1. Not All Native Wit - Ewan McIntosh
1.1.1. educators must be curious about everything
1.1.2. rules of the road/guidelines need to be established then students should be given power over learning
1.1.3. kids need to do more gaming in school
1.1.4. Ewan's Blog
1.1.5. Ewan's website
1.2. This, My Blog Has Taught Me - David Truss
1.2.1. Important for educational leaders to blog so they can connect to other leaders
1.2.2. students need their own blogs
1.2.3. need to publish not just lurk
1.2.4. delicious - social bookmarking
1.2.5. Twitter - micro blogging
1.2.6. ning - social network for brsu
1.3. Podcasting with Purpose - Bob Sprankle
1.3.1. podcasting is easy - need basic recording equipment and platform with RSS feed capability - wordpress has excellent podcast plugins
1.3.2. students really excited about coming to school
1.3.3. Room 208 podcasts - excellent example of kids taking responsibility for their own learning
1.4. The Power of Collective Intelligence - Liz Davis and Lisa Thumann
1.4.1. Twitter - I signed up for Twitter again. I have not found much use for it in the past. You can follow me on Twitter using danfrench
1.4.2. Delicious - I signed up for de.licio.us again as well and will try to make use of it more
1.4.3. Joined Classroom 2.0 a free 'ning" for educators. They started a group for the BLC 08 conference
1.4.4. Checked out ning and started a ning for brsustaff. Let me know if you want to join.
1.5. Setting Learning Free - John Davitt
1.5.1. Great presentation. Not really sure what he said but. Technology needs to be put directly in the hands of students. Teachers and students need to play with technology; be creative with it.
1.5.2. I use Audacity for editing sound files for qualitative research - great software and it is free!
1.6. Smart School Design - Alan November
1.6.1. Design starts by considering larger societal context of organization and its mission
1.6.2. Another helpful technique is to consider realistic simulations (Asian Bird Flu - what would happen if students could not attend school but you still had to educate them?) Hong Kong did this twice (bird flu and SARS) and both times scores went up
1.6.2.1. Two things to do ASAP: 1) all curriculum needs to be online; 2) all teachers need to be online in a collaborative learning environment.
1.6.2.2. Recommended two readings and I have ordered "Art of the Long View," and you can borrow it when I am done.
1.6.2.2.1. The Art of the Long View
1.6.2.2.2. Flow
1.6.3. A third consideration is the learning ecology - buildings should support collaborative learning for students and adults.
1.6.4. Library Design - Alan discussed elements of good school library design based on his experience as an architect and consultant.
1.6.4.1. His experience working with High Tech High in San Diego where they mistakenly made the school look like business cubicals - student like to see each other and work together.
1.6.4.2. Washington International School. The librarian from this school was in this session. Daniel Pink's children attend this school. Attached is an article (School Library Journal, May 2007) he wrote on library design about this school.
1.7. E-School: Global Messages from a Small Island (Northern Ireland)
1.7.1. Amazing what Northern Ireland has achieved during Civil War
1.7.1.1. Demos - A UK think tank dedicated to supporting "everyday democracy"
1.7.1.2. Education Epidemic - influential article on how change in schools needs to be more viral
1.7.1.3. Building Schools for the Future - these countries get it. They see education as a national priority.
2. Kelly Ahlfeld
2.1. John Davitt's ideas
2.1.1. a reminder to use all modalities and ideas in teaching and presenting
2.2. Blue Nose songwriting competition
2.2.1. a fun idea to share with teachers for their students to get them writing
2.3. Online safety
2.4. quick and easy tech ideas with B.A. Fish (PE teacher)
2.4.1. an example of what one motivated but not "techie" teacher with an ipod and a video camera can do
2.5. Alan November's Learning how to Search session
2.5.1. a really important guide to ensuring we help our students and ourselves make sense of all of this information; learning the language and grammar of the internet so that we evaluate and make sense of it
2.6. Aguera's inspiring speech
3. Nancy Mark
3.1. Ewan Mcintosh
3.1.1. Ewan's Keynote was terrific! (it took me a little time to learn his name correctly...thanks to all of you for being so polite) He was the true "native wit." I enjoyed his message about youth and the importance of understanding youth and the"participation culture." In his follow up "reflections" he spoke about the change process and the power of "small, passionate groups" who lead by example. Great stuff! In his session about assessment he made great points about "shared awareness" as well as ways of avoiding "initiative fatigue."
3.2. Bob Spankle:Podcasting with Purpose
3.2.1. A combination of great "tips" for podcasting in your classroom as well as the larger message about the power of podcasting as a vehicle for "democratizing your classroom" and engaging our "digital learners."
3.3. Aarti Sehgal
3.3.1. The competent and composed 11-year old from Hong Kong with her inspiring blog. It will be a great source for the classroom.
3.4. Alan November's session on leadership gave some great references such as S. Zubof, The Age of the Smart Machine. I liked his message about the importance of relationships in successful integration and emphasized the importance of our families. He also spoke of "automating" vs. "informating." When we "informate" we "do things we've never done before because of technology."
3.5. Dr. Pedro Noguera
4. Sarah Merrill
4.1. powerful keynotes
4.1.1. strong messages addressing the impact of technology on 21st century learning
4.2. connectedness=productivity=relationships
4.2.1. technology tools increase productivity which allows for more time to build relationships
4.2.1.1. google applications
4.2.1.1.1. gmail
4.2.1.1.2. calendar
4.2.1.1.3. chat
4.2.1.1.4. documents
4.2.1.2. social networks
4.2.1.2.1. blogs
4.2.1.2.2. twitter
4.2.1.2.3. facebook
4.2.1.2.4. ning
4.2.1.3. information sharing
4.2.1.3.1. podcasting
4.2.1.3.2. wikis
4.2.2. global connectivity
4.2.2.1. competitive world
4.2.2.2. knowledge connections
4.2.2.3. diversity understanding
4.2.3. technology in the hands of students
4.2.3.1. promotes creativity
4.2.3.2. encourages persistance
4.2.3.3. creates compassion
4.2.3.4. supports learning
4.2.3.5. sustains curiosity
4.2.3.6. generates communication
4.3. importance of teacher professional development
4.3.1. purposeful
4.3.2. developmentally appropriate
4.3.3. supportive of risk taking
4.3.4. identify teacher leaders
4.3.5. communicate expectations
4.3.6. provide ongoing support
4.4. leadership
4.4.1. key decisions must be made by those with the greatest level of understanding
4.4.2. stay clear of becoming technology rich and information poor
4.4.3. collaboration is key
4.4.3.1. students must make decisions
4.4.3.2. teachers must make decisions
4.4.3.3. leaders must involve the greater learning community
4.4.4. 4 levels of information
4.4.4.1. 1-data (numbers)
4.4.4.2. 2-information (interpreting the numbers)
4.4.4.3. 3-knowledge (applying the information)
4.4.4.4. 4-wisdom (making connections)
4.4.5. DO NOT AUTOMATE - INFORMATE
4.4.5.1. automate is to put technology on top of what has always been done
4.4.5.1.1. example - using a Smartboard as a glorified chalkboard
4.4.5.2. informate is to do things that have never been done before with the use of technology
4.5. effective schools
4.5.1. it is not an achievement gap, it is an allocation gap
4.5.2. reform must be done with teachers not TO teachers
4.5.3. homework is an equity issue
4.5.4. create a school where it is "cool" to be smart
4.5.5. develop systems to monitor academic performance
4.5.6. engage in constant assessment
4.5.7. provide effective leadership
4.5.8. maintain a culture of high expectations for EVERYONE
4.5.9. do less of what doesn't work