Bear Pals Around The US
by Genevieve Gandara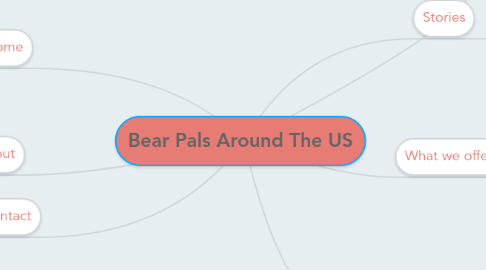 1. Home
1.1. The home page will be the options page of any destination of where one may need information. It will show a slideshow of pictures of children who have a bear pal all over the U.S, with a quick description of what bear pals is all about.
1.1.1. VIDEO PROJECT: I will include my slideshow of happy children in which have received a bear pal and inspirational quote for people looking to help
1.1.2. LOGO: I will create a bear pal logo with a child and a bear
2. About
2.1. By clicking on this page, visitors are able to read into detail on our organization and the founders.
2.1.1. INFOGRAPHICS: Here I will have a photo of the founders and how many children across America have been helped
3. Contact
3.1. By clicking here visitors can find contact information of interest in donating a bear pal to a child
3.1.1. GRAPHIC DESIGN/ QR CODE: here we will have a quick link to the "Give a bear pal now!" page, otherwise a professional email, and customer service line, donations, or request for a child in need.
4. What we offer
4.1. Here we will show that we are a small organization and wish to offer inspiration to children. Here we will have a form application for adults who know of a child in need.
4.1.1. SCREENCAST: here we will have our screencast for those who may have difficulty understanding how to turn in an application for a child in need for a bear pal or anyone who may be be impaired.
4.1.2. GOOGLE FORM: here we will have a link for a Google form that allows people to submit an application for a child in need with some basic information safe to displayed into public, otherwise any other info will be held safe by us.
5. Give a Bear Pal now!
5.1. Here will be the options/ purchase page where visitors would be able to choose a bear for male or female , and choosing a name in whom they will be donating their bear too.
5.1.1. APP/ PROTOTYPE: Checkout page; visitors will fill out message if they wish to leave one for the child, and complete payment process and will receive an email confirmation and a minimal tracking number
6. Stories
6.1. Under the stories link we will have pictures and small paragraphs of children who have been given a bear pal by strangers around the world. Under the small paragraphs we will have a to and from location.
6.1.1. SOCIAL MEDIA/ VIDEOS: here we will have a small blog and an option of uploading their story based on approval by the company firsts. Package reveals and follow up photos.
7. TAGLINE: Bears are pals for a lifetime, one child at a time.