Math Matters
by Jayme N Beall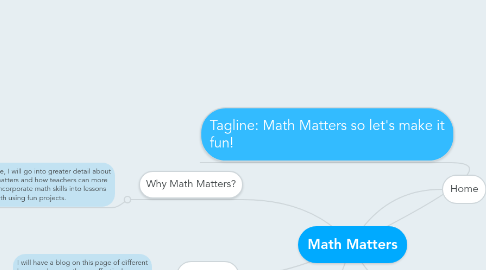 1. Home
1.1. My homepage will give a brief description of the math matters movement. I hope to engage my target audience (teachers) in order for them to become more aware of how to incorporate project -based learning into math.
1.1.1. Logo: I will have a mathematical looking logo to grab the attention of my audience
1.1.2. Screencast: my screencast will show visitors how to submit lesson plans and easily navigate the site.
2. Contact Us
2.1. This will be a basic contact page for questions that teachers may have outside of what is already on the site.
2.1.1. Graphic Design/QR Code: My flyer will give an overview of my site and can be given to local schools as a resource.
2.1.2. App prototype: Teachers can easily view/submit lesson plans through the app to help them effectively plan their class time.
3. Why Math Matters?
3.1. On this page, I will go into greater detail about why math matters and how teachers can more effectively incorporate math skills into lessons or teach math using fun projects.
3.1.1. Infographic: My infographic will have facts about how math can help students succeed and explain why it is one of the most important subject areas.
4. Resources
4.1. I will have a blog on this page of different lessons where math was effectively incorporated through projects for other teachers to gain ideas.
4.1.1. Social Media: I will have a blog of math lesson plans and how effective they were in classroom use.
4.1.2. Video/Animation: I will create a animation of why math is important and how teachers can get involved.
5. Get involved
5.1. This page will allow teachers to support each other to create math projects to make math fun.
5.1.1. Google Form: I will allow teachers to submit their project plans via google forms in order to find the most qualified to put onto the Resources page.
6. Tagline: Math Matters so let's make it fun!