Phoenix Collegiate Academy
by Alysia Castro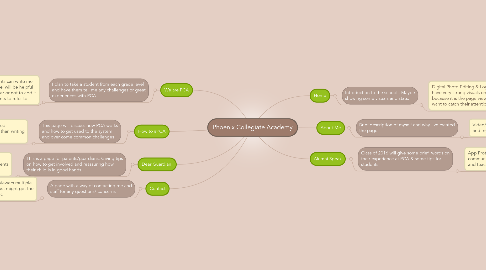 1. About Me
1.1. Brief description of myself and why I've created the page
1.1.1. Video/ Animation: To give a visual on who I am and my time at PCA
2. Home
2.1. Introduction to the school . Maybe showing some visuals and stats.
2.1.1. Digital Photo Editing & Logos: It is important to have very strong visuals on the first page because it is the page viewers first see and I want to catch their attention
3. Alumni Speak
3.1. Class of 2016 will give some brief words on their experience at PCA & some tips for students
3.1.1. App Prototype: Maybe create a form of communication n=between Alumni, students, and teachers. Like facebook but for school!
4. We are PCA
4.1. I plan to take a student from each grade level and have them tell me any challenges or great experiences with PCA
4.1.1. Google Form: Students can write me any feedback they feel will be helpful and I'll decide whether or not to add it to tht page for students to refer to
5. How to #PCA
5.1. This page will discuss how PCA works and how to get used to the system and over come common challenges
5.1.1. Info-graphics: to present the needed information in a fun fashion rather than writing out a bunch of information
6. Dear Guardian,
6.1. This is a page for parents/guardians. Giving tips on how to get involved and reassuring how their child is in good hands.
6.1.1. QR Code: a quick way for parents to access PCA's facebook group for students and parents called "PCA Scholars"
7. Contact
7.1. A page with a way of contacting me and staff for any questions/ concerns
7.1.1. Social Media: this will give viewers multiple ways to contact me and it just might get the word around about the topic