Nonstandard Pamper & Play
by Zarina Brown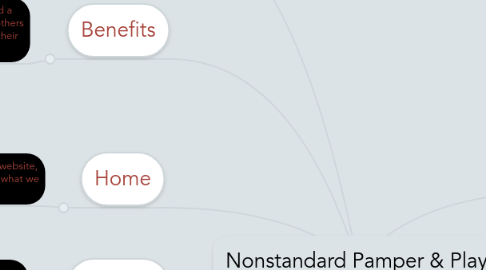 1. About
1.1. Full description of what we do, and stories of past people that have came into the salon/daycare.
1.1.1. Screencast presentation will be under this tab with screencast of me explaining why I chose this and how it's helpful for parents.
1.1.2. Inserted infographic with a link to the salon and daycare tabs to learn more about what's totally offered.
2. Contact
2.1. Information on how to reach us and have a deal provided if you sign up for emails.
2.1.1. QR Code will be included in this tab to make it easier to find the website.
2.1.2. Social media will be here to get connected and see what's going on at Pamper & Play.
3. Salon
3.1. This tab will go into detail about what salon services are offered to parents.
3.1.1. App prototype will be here to show possible hair colors on yourself and scheduling for the daycare and salon.
4. Home
4.1. Will have tabs to other sections to the website, logo, motto, and a brief description of what we do.
4.1.1. Large image of the logo will be on this page, and shrunken down on other pages.
5. Daycare
5.1. This tab is to let parents know of the daycare and classes that are provided to children while they're being pampered.
5.1.1. This area will have a video of the daycare/classes that the children are in while the parent is getting pampered.
6. Benefits
6.1. Explanation on how having a daycare and a salon in one help both parties and how others can get involved in helping parents and their youth.
6.1.1. Google form with a survey on how parents feel after going to a salon and how hard it is sometimes to find a babysitter.
7. Tagline: Relieving the stress from parent and their kids.