Math: Mind Over Matter
by Sydney Walsh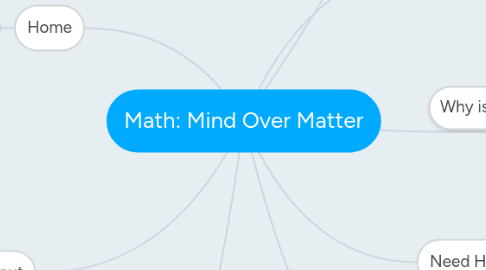 1. About
1.1. This section will expand upon the Home section by raising the question as to why students seem to struggle more with math than any other subject. It will get the viewer thinking about their experiences with learning math and they will become interested to find out why it is a struggle for so many students.
1.1.1. Graphic Design/QR Code: I will create a graphic design about my website and a QR code so that visitors can access my website on their cell phones quickly and easily.
1.1.2. Photo editing: I will use photo editing to enhance an image of a teacher and students in a classroom.
2. Home
2.1. This section will simply introduce the purpose of making this website and what the its goal is. It will explain the epidemic of students struggling to learn math in order to raise the viewer's interest.
2.1.1. Logo: I will create a logo and put it on the website's homepage. This is also present on all other pages.
2.1.2. Video/Animation: I will create an animation that shows the viewer and example of learned helplessness happening to a fictional student.
3. Need Help?
3.1. This section is available for students to find resources for their academic success, such as online tutoring. There may be other resources along with that as more research on this topic is done.
3.1.1. I will provide math tutoring resources for users to go to if they are looking for help.
4. Why is Math Hard?
4.1. This section will include research on the topic, generally leaning more towards the correlation between student's views on whether or not they are good at math and their success with learning. This section will also propose methods of improving students' learning experience and fixing the problem.
4.1.1. Google forms: I will use a google form in order to take a survey from those who view this site. It will ask them if this explanation aligns with their experience with learning math or if they alternatively had a different reason. This will help with collecting data for future use in studying this topic.
5. Research
5.1. This section will display statistics of student success in their math classes. This may include failure rates and general attitudes towards learning math.
5.1.1. Piktochart: I will create an infographic showing these statistics from my research about failure rates and student attitudes.
6. Contact
6.1. This section will include a link to a social media page for the viewer of this website to find updated information on the research done on this topic.
6.1.1. Social Media: I will create a Twitter account that shares information from similar accounts about math and math education. On this twitter account, I will share a lot of resources from Khan Academy.
6.1.2. App Prototype: In addition to providing existing resources, I will create an app where the users can quickly access information from my website and find resources that can help them learn math.
7. MMOM: Helping students access the resources they need to become successful in their math classes.
8. Screencast
8.1. This page is dedicated only for the screencast that navigates the rest of the website.
8.1.1. Screencast: I will make a screencast that navigates the website so the viewers can then navigate it on their own.