Branding Map
by TanyaMarie Elzy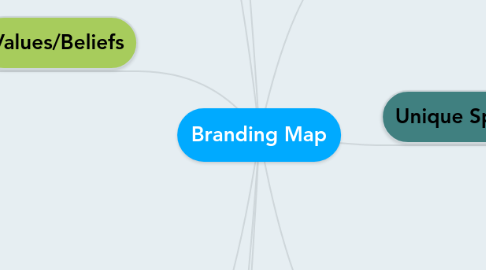 1. How I Can Help
1.1. My Marketing Background is a Plus
1.2. I Have No Fear of the Internet
1.3. I'm a Former Software Trainer
1.4. Former Vocational Instructor
2. Unique Spin
2.1. I'm Really Interested in Watching You Win
2.2. I Make Complex Goals Easy to Break Down Into Manageable Tasks
2.3. Making It Fun is my Thing
2.4. I Give Away Great Ideas like Other People Share Popcorn!
3. Who I Serve
3.1. Creative People Who want to Prosper Online
3.2. Creative People Who want to learn how to Promote Online
3.3. Want to Master Passive Income Skills
3.4. Those Who Long to Teach Others What They Know
4. Strengths
4.1. My Ability to Heart Connect with Others
4.2. Great Actionable Ideas come to me Non-Stop
4.3. Love Computers and the Apps That Run Them LOL
4.4. Love Researching New Ideas and Free or Low Cost ways to Implement Them
4.5. Truly Enjoy Helping Others Reach Their Goals
4.6. I'm Extremely Creative Myself
5. Weaknesses
5.1. Paperwork Bores Me Sometimes
5.2. Juggling Money and Meeting my Financial Obligations on TIME
5.3. Creative People (Me) Get Bored Easily
5.4. Procrastination and Me are sometimes on a first name basis
5.5. Too Hard on Myself for making Small Things BIG
6. Values/Beliefs
6.1. I believe With ALL my Heart That Everyone is Creative, and I can Prove It
6.2. We Were ALL Meant to Be GREAT
6.3. People Respond in a Positive Manner to Sincere Acknowledgement
6.4. You Deserve My BEST, and I Deserve YOURS
6.5. Creative People Will One Day Save the World, Starting With Their OWN
6.6. I Am Naturally Abundant
7. Personality/Things I Like To Do
7.1. Create Stories All Day Long In My Head
7.2. Read Books on Every Imaginable Topic
7.3. Research All Kinds of Crazy Things on the Internet
7.4. Travel: I've been to London, Peru, Egypt, Athens, Bolivia, Jamaica, and Bermuda; I'd Love to visit Paris, Rome, India, China, and Malaysia!
7.5. Conquer the World with LOVE
7.6. Write Poetry
8. Who I Love Working With (Or Would Love To Work With
8.1. Young Creatives Unsure of How to Start
8.2. Mature Creatives Unsure of How to Expand their Reach
8.3. Creatives Already Online Who want Increased Visibility
8.4. Creatives Who Want to Teach What They Know
8.5. People Who Believe in their Vision
9. Why I Care
9.1. I Know What it's Like to be an Artist with Unrealized Potential
9.2. Creative People often experience Depression when they don't honor their Gifts
9.3. I Feel Personal Satisfaction when a Creative person Owns Their Power