Heilbroner's Essay: To Stop from Stereotyping
by
Jess Esquivel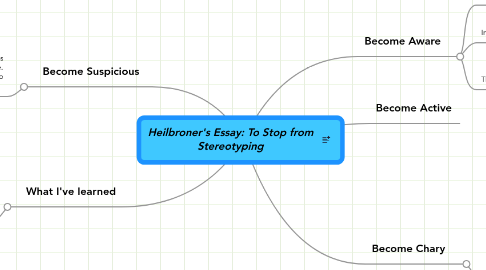 0.0
stars -
0
reviews range from
0
to
5
Heilbroner's Essay: To Stop from Stereotyping
This is just a demo map that you can delete right away, if you feel like it...
Become Aware
In the people around us
In our own mind
The World as a whole
Become Suspicious
We have to know all judgments as they come, not before its too late. "it takes but one tiny exception to topple a whole edifice of ideas."
Become Chary
Heilbroner included this quote from Scott F. Fitzgerald, "Begin with an individual, and before you know it you have created a type; begin with a type, and you find you have created--nothing." I believe he included this quote because it says all that needs to be said.
What I've learned
To be honest, I learned that I judge people even though I've been trying not to and I have to say it's because of the people I'm around. I added the "Become Active" because I think it's one thing to say you're not going to judge but a whole other thing to actually not judge other people.
Become Active