Project Plan
by Jennifer Bishop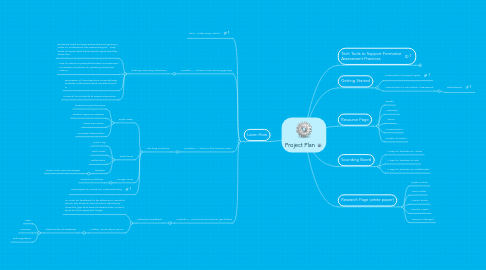 1. Tech Tools to Support Formative Assessment Practices
1.1. Formative
1.2. Nearpod
1.3. Padlet
1.4. Blogs
1.4.1. Weebly
1.4.2. Google Sites
1.4.3. Kidblog
1.5. SeeSaw
1.6. Kahoot
1.7. Quizlet
1.8. Google Tools
1.8.1. Forms
1.8.2. Classroom
1.9. MobyMax
1.10. PearDeck
2. Getting Started
2.1. Description of project goals
2.2. Introduction to Formative Assessment
2.2.1. Blendspace
3. Resource Page
3.1. Books
3.2. Websites
3.3. Videos
3.4. Connections
3.5. People to watch
4. Sounding Board
4.1. A way for teachers to share
4.2. A way for teachers to ask
4.3. A way for teachers to collaborate
5. Research Page (white paper)
5.1. Dylan Wiliam
5.2. John Hattie
5.3. Valerie Shute
5.4. Sandra Myers
5.5. Jarene Fluckinger
6. Learn How
6.1. Intro - Kathy Dyer article
6.2. Module 1 - Where is the learning going?
6.2.1. Sharing Learning Intentions
6.2.1.1. Students need to know where they are going in order to understand the expected goal. They need to know what achieving the goal possibly looks like.
6.2.1.2. Use of rubrics & potential student involvement in creation of rubrics or rewriting of teacher rubrics.
6.2.1.3. Discussion of how teachers currently help students understand what excellent work is.
6.2.1.4. Protocol for students to assess exemplars.
6.3. Module 2 - Where is the learner now?
6.3.1. Eliciting Evidence
6.3.1.1. Right away
6.3.1.1.1. Questioning techniques
6.3.1.1.2. Student reponse systems
6.3.1.1.3. Think Pair Share
6.3.1.1.4. Focused Observation
6.3.1.2. Short term
6.3.1.2.1. Mind Map
6.3.1.2.2. Exit Ticket
6.3.1.2.3. Reflections
6.3.1.2.4. Quizzes
6.3.1.3. Longer Term
6.3.1.3.1. Student portfolios
6.3.1.4. Techniques to Check For Understanding
6.4. Module 3 - How does the learner get there?
6.4.1. Effective Feedback
6.4.1.1. In order for feedback to be effective it needs to inform the student about how to effectively close the gap that exists between their current work and the expected target.
6.4.1.2. Hattie - Know thy IMPACT
6.4.1.2.1. Three levels of feedback