The 8th clinical Microsystem Festival 3-4 March 2011, Jonkoping Sweden
by
Paul de Roos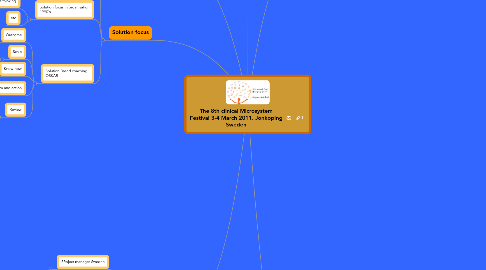 0.0
stars - reviews range from
0
to
5
History
New node
Slide
Future of healthcare
slide
slide
Read: Value by design
Slides by Göran Henriks, http://bit.ly/hW2wVm
slide
slide
slide
PRoject manager Sweden
changing work in healthcare
Better life for old people in need of health care and social care
Swedish palliative register 2010
Therese . lindman @ skl.se
www.senioralert.se
www.palliative.se
Psychologist, Finland
LIITTYVA VOIMA COllaborative intensity
New node
Physiotherapist, Andreas, Norway
back pain, hospital work
HEad of adult community services, Wakefield, England
140.000 people living
going through a reorganisations
vertical integration of the primary care and hospital care
www.liittyvavoimia.fi
Sweden, Mrs. Lamark, Nurse
Working in staff, in area of skin/ear/eye infections
Trying to make improvements, help leaders in different clinics measure outcomes of work
struggle with managerial problems: top-down vs botom up
from ITaly delegation
Expert users and damily members in mental health services
www.fareassieme.it
Areas, Menthal health center, reception at the front office and call center accompaniment in crisis situation participation in community treatment team, hospital ward, presence and accompaniment in crisissituations, housing, night and day shift at the sun house, a residential facility that accomodates people with severe mental disorders, care pathways, awareness campaign, families, quality
Nicoline Wackerberg
Physical therapy
Quality manager in Esther network since 2006
Same job, different people paying
Esther Coaching
Coaching started in 2006, Esther Coaches Step 1, Esther Coaches Step 2, goes out to different organisations, e.g. 20 hours in spring, 20 hours in fall, Keypoints, Patient focus, Learn of others, Cooperation, multiprofessional, structure in improvement, Training, 6 days, Learning by doing, MAking their own personal improvement project, making an improvement at work, coaching skills - conversations topics, site visits in other organisations in and outside healthcare, solution based coaching, smart way of using language, "coach contract", Agreement between leadership and coach, morning leaders of department come, end of the day they return
Esther network - "No matter where, we will be there!" -- tagline
Stand in the shoes of another in healthcare, one day a year, how is it to be a social worker, how is it to be an occupational therapist
We are good in process mapping
Started in 1997, we moved much forward since then, we are not there.
VISION, creating a durable and neergetic network results that Esther can feel confident and independent, Esther, knows where to turn to, gets care in or close to her home, See us as the same provider of care, has the same possibilities to get care all over the region, Always stories, Esther met 32 people, attach process mapping to stories, thinking LEAN, yet putting the person central, When funding was gone, shaped network, Esther is a name, it's a symbol, a symbol for the patient that needs several caregivers
Hoglandet, Hospital Eksjo - Nassjo, Referrals prefer to send patients there, 110.000 inhabitants, 7 municipalities, 7 primary care regions, One hospital
Esther network = 3 jobs, Do your job, Improve it, Spread it
Changes, Who's in the room, Politicians, patients, Carers, Healthcare professionals, optimising use of the network, Basic idea, we want, we can, we have the guts, managing with all you have, it's not about money, requires support of colleagues, improvement work, Our colleagues understand now how we contribute to improvement, Literature, Flaherty J. Coaching: Evoking excellence in others. 3rd edition. Butterworth-Heinemann,2010, s 2-3, Szabo P Meier D Coaching: Plain & simple. 2009, s 7
SEssion participants
psychologists
nurses
coaches
educators
management / directors
Presentations 2010
http://www.lj.se/info_files/infosida35103/a3_wackerberg_svensson.pdf
http://www.lj.se/info_files/infosida35103/a3_hibbs.pdf
Gregory Bateson, Milton Erickson (and MRI Palo Alto), 1950s
Solution Focus Based Therapy, 1980s
Steve de Shazer & Insoo Kim Berg
Solution focus in organisation 1990's
systems thinking
etc
Solution Based coaching - OSKAR
Outcome, What you want is
Scale, what's already happening
Know-how, What works here
Affirm and action, Whats impressed and small steps
Review, what's better. how did you do that?