Internet for Educators By Blair Adamson
by
Blair Adamson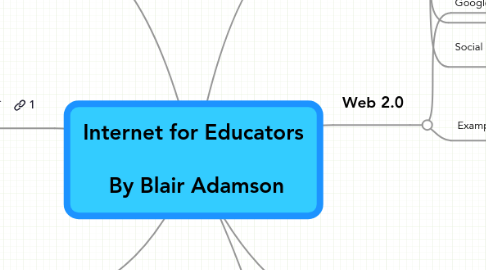 0.0
stars - reviews range from
0
to
5
Internet for Educators By Blair Adamson
PLN's
Personal Learning Networks (PLNs) are a great way to expand your horizons. They offer you an opportunity to connect with people that you would normally not have an opportunity to connect with. PLNs allow educators to share ideas with others and receive important feedback which only benefits everyone.  
Web Based Learning
Web Based Learning is a great way for students to have access to learning fro anywhere in the world. This is a great option for students looking for a challenge, absent from the normal school setting or need to pick up extra credits that aren't available in their school.   Web Based Courses are also a great option for teachers to find resources for teaching their own class.
A great tool for teachers to gain resources for teaching a class. Especially good for beginning teachers or teachers teaching a course for the first time.
Social Networking is a great way for students, teachers and parents to connect with each other. There are thousands of sites available for social networking. Social networking has been made popular by sites such as Facebook and Twitter for people to stay connected with each other. This offers a great opportunity to use these already popular sites as a learning tool. Collaboration through social networking allows us to produce exceptional work that would not be possible if done individually.
Examples
The future of the internet in education is a rapidly changing phenomenon. One thing is for certain, the internet and technology is only going to be incorporated more and more in learning. Children are surrounded with the newest technology outside of school and we can't expect them to be stimulated by the old fashioned idea of textbooks and scribblers. Preparing students for life after high school is an important aspect of being a teacher. Teaching students how to properly use the internet is just as important. Improper use of the internet can cause problems for a person for the rest of their life. Digital citizenship is the term that refers to the responsible use of the interne.
Open education is a term that refers to the idea of education that is free from barriers of entry. Alec Couros is a professor at the University of Regina that participates in open education courses. He teaches courses at the University for credit to students who pay for the course, but he also teaches to others around the world that participate in the course free of charge. Of course if you do not pay, you will not receive credit for the course.
Handheld devices are another way to incorporate technology into the classroom. Handhelds are being used in classrooms already and there is great reason to believe that there will be a push for more classes using them. Ipods, cell phones, Ipads, and GPS are all devices that can be used in the classroom.
Sharing
Sharing and collaboration is one of the most important concepts that I've learned from the Internet for Educators course. Sharing is such a simple idea that has been overlooked for so long. Sharing our work with others, forces us to produce our best work. Sharing our work allows for collaboration and critique which will only improve the quality of the work. Everyone has a different perspective on things remaining open to these different views and opinions is important as educators.
Skype is a a great way to connect with others around the world via video and voice conferencing. This application allows students and teachers to connect with other students, teachers and experts around the globe. Connecting with people that you normally wouldn't have the opportunity to connect with is a great way to share ideas and information.
Twitter is a social networking site that is great for sharing. Although originally developed for people to share thoughts and ideas about their everyday lives. Twitter is becoming a widely used tool by educators to share ideas and resources. I was skeptical with Twitter at first, but I now find some great value in it. I am currently following some great people in the field of education that have opened my eyes to some interesting topics that I would not have thought about on my own. Definitely recommend Twitter for sharing your ideas, work and questions with others.
Google Docs is an amazing collaboration tool that allows multiple users to edit a document. Google offers word processors, spreadsheets and presentations that can be used in this format. Google Docs is a great tool for the classroom. Students are able to collaborate and share their findings in a common place. Google docs is also a great tool for educators to work together in building resources for students.
What Have I Learned?
This course has taught me some great things about using the internet as an educator. The internet is a tool that has changed our everyday lives. People are able to connect to others around the world in a push of a button. This provides us with so many learning opportunities that we have not seen in the past. The internet allows students to have the answer to a question in mere minutes. Our role as teachers is definitely changing from what it has been in the past. In years past the teacher was the most important learning tool in a classroom. The teacher is still important to the education of students, but some feel that the teacher is becoming a facilitator of learning. Does this spell trouble for the need for a teacher in the classroom? Absolutely... These best way for a student to learn is still one-on-one instruction from a teacher. Children will always need to have adults to help them with their learning and guide them in the right direction.