The Rise of Christianity
by
Jay Killian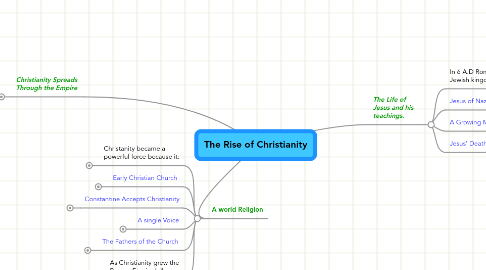 0.0
stars - reviews range from
0
to
5
The Rise of Christianity
The Life of Jesus and his teachings.
In 6 A.D Rome controlled the Jewish kingdom of Judea.
Jesus of Nazareth
A Growing Movement
Jesus' Death
Christianity Spreads Through the Empire
The first followers of Jesus were Jews, these followers created a new religion based on his messages.
Paul's Mission
Jewish Rebellion
Persecution of the Christians
A world Religion
Christanity became a powerful force because it:
Early Christian Church
Constantine Accepts Christianity
A single Voice
The Fathers of the Church
As Christianity grew the Roman Empire fell.