CHRISTOPHER AREVALO SMARTPHONES
by
Christopher Arevalo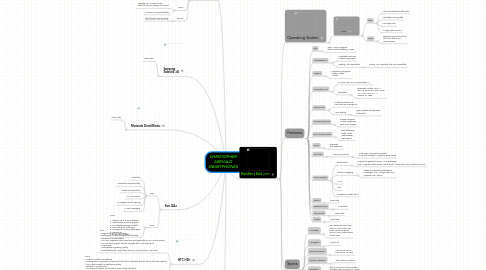 0.0
stars -
0
reviews range from
0
to
5
CHRISTOPHER AREVALO SMARTPHONES
This is just a demo map that you can delete right away, if you feel like it...
BlackBerry Bold 9780
Operating System
RIM, Pros:, At its best with the battery life., Has better voice quality, Less drop calls, 5 Mega-pixel Camera, Cons:, Browser has improved, but still has a little more improvement.
Features
GPS, Type: A-GPS; supports LBS/includes Blackberry Maps
ACCESSIBILITY:, Adjustable Text Size Multiple Languages, Hearing Aid Compatible:, Rating: M3, T3(mostly tele-coil compatible)
ALERTS:, Polyphonic Ringtones Ringer Profiles Vibrate
CONNECTIVITY:, PC Sync USB Wi-Fi:Version(s):802.11, Bluetooth:, Supported Profiles: HSP 1.1, HFP 1.5, OPP, PBA, DUN, A2DP 1.2, AVRC 1.3, SAP 1.1 Versions 2.1+EDR
CONTACTS:, Multiple numbers per name Picture ID Ringer ID, Voice Dialing:, Type: Speaker-Independent (automatic)
CUSTOMIZATION:, Custom Graphics Custom Ringtones Real Music Ringers
DATA & NETWORK:, Data Tethering Flight Mode Web Browser High-Speed
INPUT:, Side Keys Text Keyboard
MEMORY:, Memory Card Slot:, Card Type: microSD (TransFlash) 2 GB card included / supports up to 32 GB
MESSANGING:, Email Client, Protocols Supported: POP3, IMAP, Exchange push / supports attachments (Word, Excel, PowerPoint, PDF) and secure email, Instant Messaging:, Networks Supported: BlackBerry Messenger, AOL, Google Talk, ICQ , Windows Live, Yahoo!, MMS, SMS, Headphone Jack(3.5mm)
MEDIA:, New node
PRODUCTIVITY:, New node
SOFTWARE:, New node
VOICE:, New node
Specs
Modes:, GSM 850/900/1800/1900 WCDMA 900/1700/2100 Some versions support WCDMA 850/1900 instead of 900/1700
Weight:, 4.2oz (119)
Dimensions:, 4.29"x2.36"x0.56" (109 x 60 x 14.1mm)
Form Factor:, Bar; Internal Antenna
Battery:, Talk: 6 hours max. (360 minutes) Standby: 408 hours max. (17 days) 1500 mAh
Display:, Type: LCD (Color TFT/TFD) Resolution: 480x360 pixels 2.4" diagonal; Colors: 65,536(16-bit)
Processor:, 624 MHz
Memory:, 121.0 mb
Sources
http://tinyurl.com/3pgejys
IPhone 3GS
Pros:
1.Reception is as good as my Tilt and Nokia
2.Excellent call quality
3.Not one dropped call, as yet
4.The bluetooth headsets have not disconnected
5.Not once, unlike both of my other current phones
6.The user interface is elegant! It just work.
Cons:
1.Battery Life- It seems to be related to phone useage, not e-mail.
2.TomTom not yet available
Source:
http://tinyurl.com/5r29a5g
Evo QA4
Pros:
1.Solid feel
2.Excellent sounds quality
3.External lock button
4. 2 MP camera
5. Google Contact Syncing
6. Text messaging
Cons:
Cons: 1. Needs USB to 3.5mm adapter 2. Web browser is not very good 3. No calender syncing available 4. Tons of built in Alltel apps 5. No support for third partys apps 6. Generic OS 7. EVDO did not work
HTC Thunderbolt
Pro: -Fast, Fast, Fast -HTC Sense works wonders, music app works better then stock android, gallery may not be as pretty but works better in my opinion. -4G is quick!! -3G is also quicker then my brother's Droid X
Cons: -Well yes, it's obviously large, but I really don't notice it in my pocket that often -By default, the battery life is abysmal. However, with a bit of tweaking, it can be fine (and I'm definitely a power user) -Kickstand is stupidly placed such that when you charge the phone the charger is in the way of the kickstand...design flaw -This is very minor but the power button and volume rocker are almost flush with the phone, so that in its case, it's a little difficult to press the buttons
Samsung Sidekick 4G
New node
Motorala Droid Bionic
New node
HTC HD7
Pro's - Huge and nice 4.3 inch screen - Feels good in hand and great build quality - Kickstand is a nice feature - The WP7 keyboard is the nicest one out (especially on an 4.3 inch screen) - The UI is very original, easy to navigate fluid, and responsive - Zune Player - Marketplace is growing rapidly - Good battery life (Way better than any Android phone I've used)
Con's - Not of T-Mobile's 4G network - Loading time on games are slow most of the time (hopefully they fix this on the next update) - No Mobile Hotspot or teathering option - Speaker is not very loud - The physical buttons on the phone aren't really that great - Camera quality isn't that great either