Michael Morhaime
by Emmanuel Collazos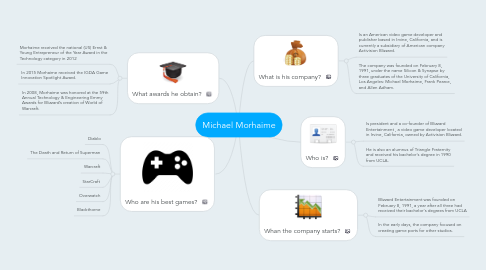 1. Who is?
1.1. Is president and a co-founder of Blizzard Entertainment , a video game developer located in Irvine, California, owned by Activision Blizzard.
1.2. He is also an alumnus of Triangle Fraternity and received his bachelor's degree in 1990 from UCLA.
2. What awards he obtain?
2.1. Morhaime received the national (US) Ernst & Young Entrepreneur of the Year Award in the Technology category in 2012
2.2. In 2015 Morhaime received the IGDA Game Innovation Spotlight Award.
2.3. In 2008, Morhaime was honored at the 59th Annual Technology & Engineering Emmy Awards for Blizzard's creation of World of Warcraft.
3. Who are his best games?
3.1. Diablo
3.2. The Death and Return of Superman
3.3. Warcraft
3.4. StarCraft
3.5. Overwatch
3.6. Blackthorne
4. What is his company?
4.1. Is an American video game developer and publisher based in Irvine, California, and is currently a subsidiary of American company Activision Blizzard.
4.2. The company was founded on February 8, 1991, under the name Silicon & Synapse by three graduates of the University of California, Los Angeles: Michael Morhaime, Frank Pearce, and Allen Adham.
5. Whan the company starts?
5.1. Blizzard Entertainment was founded on February 8, 1991, a year after all three had received their bachelor's degrees from UCLA
5.2. In the early days, the company focused on creating game ports for other studios.