MICHAEL MORHAIME
by manuela sierra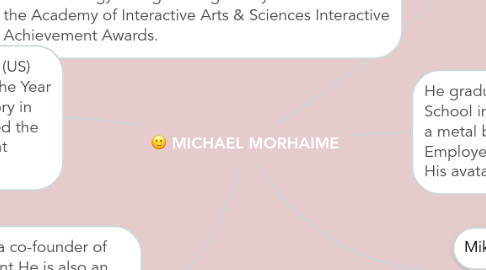 1. Mike born November 3, 1967
2. He is president and a co-founder of Blizzard Entertainment He is also an alumnus of Triangle Fraternity and received his bachelor's degree in 1990 from UCLA.
3. In 2008, Morhaime was honored at the 59th Annual Technology & Engineering Emmy Awards for Blizzard's creation of World of Warcraft. Morhaime is one of only three designers or producers to accept awards at the Technology & Engineering Emmy Awards and at the Academy of Interactive Arts & Sciences Interactive Achievement Awards.
4. Morhaime received the national (US) Ernst & Young Entrepreneur of the Year Award in the Technology category in 2012. In 2015 Morhaime received the IGDA Game Innovation Spotlight Award.
5. He graduated from Granada Hills High School in 1985. He is a member of ETC, a metal band formed of and by Blizzard Employees, where he plays bass guitar. His avatar is a male Troll, Mai'K