TYPES OF CONGENITAL HEART CONDITIONS by Fiona Allan
by Fiona Allan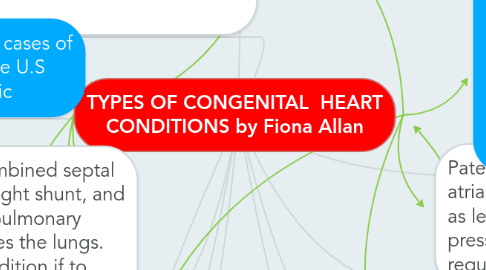 1. Tetralogy of Fallot-causes a left to right shunt. Ventricular septal defect straddled by an enlarged aorta. Pulmonary stenosis. Right ventricular hypertophy. Complications include cyanosis (blue tinted skin due to poorly oxygenated blood), polycythemia, and clubbing of fingers and toes.
2. Pulmonary Stenosis- Result of obstructed outflow from the right ventricle, complications include right ventricular hypertrophy. Only way to treat pulmonary stenosis is to dilate narrowed valve opening
3. Aortic Stenosis-obstructed outflow from the left ventricle, complications include left ventricular hypertrophy. Recommended treatment consists of
4. Transposition of the great arteries- Occurs when the aorta attached to the right ventricle and pulmonary artery attached to left ventricle. Complications consist of restricted communication between systemic and pulmonary circulations is through ductus arteriosus and foramen ovale.
5. Patent Foramen Ovale -causes right to left atrial shunt. Usually nonfunctional as long as left atrial pressure exceeds right atrial pressure. Usually there is no treament required for this condition.
6. Patent ductus arteriosus- Physiologic disturbance is an aorta to pulmonary artery shunt. Complications include pulmonary hypertension, and treatment is to ligate or excise the ductus
7. Atrial, ventricular, and combined septal defects- causes a left-to-right shunt, and complications consist of pulmonary hypertension that damages the lungs. Only way to treat this condition if to close the defect in cardiac surgery.
8. Aortic coarctation- obstructed flow into aorta distal to coarctation. Causes hypertension in arteries supplying head and upper limbs. Treatment consists of excising the coarctation and reconnecting the aorta.
9. Fact: Congenital Heart Conditions/Diseases can be caused by intrauterine injury, viral infection, or genes/chromosomes.
10. Fact" The amount of blood shunted in a typical left to right shunt depends on the size of the septal defect. Many congenital abnormalities result from abnormal communications between the systemic and pulmonary circulations that permit blood to be shunted between adjacent chambers.
11. Fact: There are about 200,000 cases of congenital heart diseases in the U.S each year, and is usually chronic