PM Process Otputs by alphabetic order (as per PMBOK 4th edition)
by
David Doret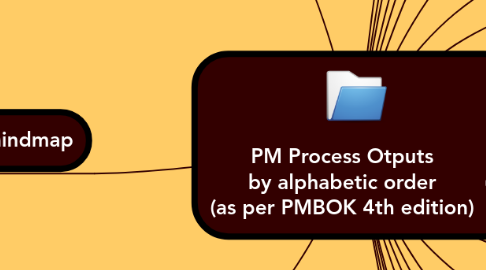 0.0
stars -
0
reviews range from
0
to
5
Describes the meaning of the icons used throughout this mindmap. Icons are particularly useful to distinguish the various Process Groups and Knowledge Areas.
.
Initiating Process Group
.
Planning Process Group
.
Executing Process Group
.
Monitoring & Controlling Process Group
.
Closing Process Group
Project Integration Management
Project Scope Management
Project Time Management
Project Cost Management
Project Quality Management
Project Human Resource Management
Project Communications Management
Project Risk Management
Project Procurement Management
.
Process Input
.
Tools & Techniques
.
Process Output
About this mindmap
Version
1.5
Feedback
Email me your feedback, including ideas, comments and critics. If your would like to help me complete this mindmap with additional information, such as terms definitions extracts from the PMBOK, etc., your help will be much appreciated.
Future improvements
The next steps shall be: 1). Complete the inclusion of all process inputs, tools & techniques and process outputs. At this point, only half of the processes are fully documented. 2). Display a complete list of artefacts, display which contains or may contain which, etc. 3). Add definitions extracted from the PMBOK with due references to the book. 4). Decompose quality tools since there are many of these and include sample pictures of the various graphs that could be used. 5). Other ideas for improvement will be most welcome...