Universal Music Group
by Jesse Jayaruh Rosales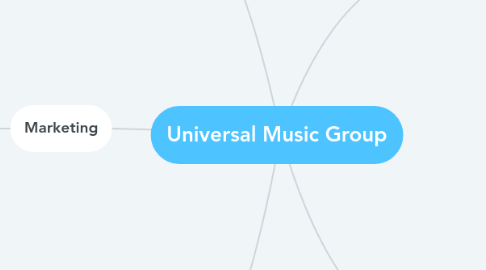 1. A&R
1.1. 1. Oversee the creation of audio recordings by artists; hiring of producers/engineers/mixers, song selection, studio locations, musicians, etc - with artists and artist management.
1.2. 2. Is in charge of taking the vision of the artist to another level in association with Marketing and communicates these ideas to key players in the department.
1.3. 3. Seek out and identify projects that will contribute to the assigned revenue goals in conjunction with the Managing Director of Universal.
1.4. 4. Communicates with marketing managers to make sure all visual digital and physical content for is ready for release on time.
1.5. 5. Handles all ends of budgeting to ensure all content is within budget and on time.
2. Business Developement
2.1. 1. Assists in developing a strategic plan for driving digital growth for UMG's content across the major social platforms (i.e. Facebook, Snapchat, Twitter, etc.)
2.2. 2. Works closely with production, sales and touring departments to develop product lines and ensure that artist campaigns and strategies are executed to the highest standards.
2.3. 3. Stays up-to-date with digital technology developments and evaluate / recommend emerging platforms and potential partners for UMG content.
2.4. 4. Owns direct responsibility for the continued development and emphasis on Streaming growth within UMG's business.
2.5. 5. Creates and presents research and analysis that it is easily digestible and ultimately, transforms into strategic recommendations for both internal and external review.
3. Licensing
3.1. 1. Licenses production music libraries to the Film, Trailer and Programming communities.
3.2. 2. Provides sales/marketing ideas and feedback to management.
3.3. 3. Plans and executes necessary strategies to ensure that annual revenue targets are achieved.
3.4. 4. Co-ordinating with legal team/directors on all returned/signed sync licenses.
3.5. 5. Maintain complete understanding, knowledge and implementation of FirstCom's sales process including opening statement, production analysis, music recommendations, web demos, customized sales proposal, follow up and consummation of the sale.
4. Marketing
4.1. 1. Work with clients and client partners to develop and execute marketing strategies and plans for upcoming artist milestones such as cd releases, tour announcements etc..
4.2. 2. Develop and execute marketing plans digitally for social media, website, paid media, mobile apps etc..
4.3. 3. Track ROI and KPI against client goals on marketing campaigns implemented.
4.4. 4. Acting as a lead on all client projects monitoring and reporting progress against goals set by clients, maintaining communication between the client and label, coordinating with other team members to accomplish specific set goals.
4.5. 5. Always staying updated on the latest form of technology used in the music and marketing industries in order to stay competitive or surpass the competition.
4.5.1. q`q1
5. Legal
5.1. 1. Gives legal advice to all UMG businesses and subsidiaries in regards to marketing, sales, distribution, and protection of music and other media assets.
5.2. 2. Assists management in determining and enforcing company policy regarding legal issues.
5.3. 3. Drafting, reviewing and negotiating a variety of legal agreements such as Joint Venture, Profit Sharing, production, artist, producer, licensing agreements etc...
5.4. 4. Responsible for clearing legal rights and pre-approving the release of recorded products.
5.5. 5. Provide input and support in connection with the legal implications of strategic entertainment business strategies and decisions.