UX Talk, David Malouf
by
Udi h Bauman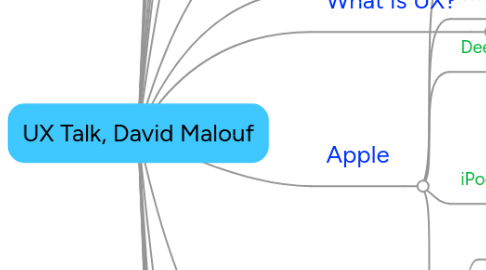 0.0
stars - reviews range from
0
to
5
UX Talk, David Malouf
title
Anyone can be a UX designer
about
says
consultant & educator
@daveixd
what is design
useful art?
being useful is all that's matters
Outcome
= execution
excution is all facets
Philosophy
Bauhaus
For the people!
By the numbers
Process
Design process
how do you measure?
Experience
Work environment
where do you work?
Bouncing people.. leads to bouncing ideas
Research found correlation between most innovative cities & those in which you drive less
Example: people moving positions inside companies
Example: coworkspaces
Designer's temple
Ideo work space
characteristics
The designer soul is the sketch
Criticism
In a group setting
All involved
Positive tones
Always the truth
What design isn't?
What is UX?
Honeycomb diagram by Morville
David: Happy people spend more money
Apple
They have fans
Why apple?
Deep commitment to design
iPod happened because
From iPod to iPhone
Anyone can be a UX designer
if you have the
but not everyone is
Observe
& relate what you've seen
notice everything & deconstruct it
Do it together
Participate
Measure
Model
Testing/validation
Recommended book:
Experience prototypes
Nothing like the real thing, but if you can't
Example
Build it
How do you know you need help
Enterprise
Broad appeal
Can I just hire a visual designer?
Yes, if you're an idiot
Great designs does great things
Example of companies emphasizing UX from day 1
What about Google & Craigslist
Luck & simplicity
Google's complexity is in the algorithm not the UI
In craig's list the content IS the interface
The lean startup
It's about culture
Adaptive UX
Can we do it?
Yes we can
To start
More books
Must for anyone creating sometihing
B J Fogg