alert [batteries discharged] .............
by Rich Pascual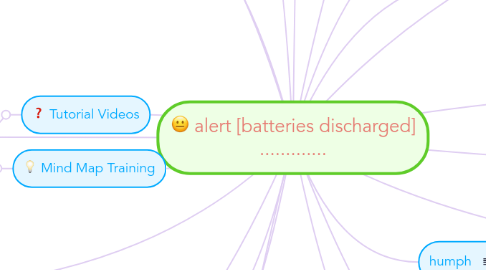 1. ok. sitting down.
2. whatever they got. let's load this turkey.
2.1. on the com. baker here just threw up.
2.2. nope.
2.3. ?
2.4. looks like we've got some pixie dust in the rear coms. you'll do ok there, mister customs?
2.5. sorry to the flyboys, but these rides are something.
2.5.1. humppph..
3. the heart of hiney is ready for jump. how's the rest of the fleet?
4. charging.....
4.1. Open the Theme menu from the bottom of your map editor to change your map theme
4.2. Create a presentation of your mind map by clicking the presentation icon in the bottom left corner of your screen
4.2.1. Simply hold down COMMAND i.e. CTRL and Click & Drag to create a slide for one or multiple topics
4.2.2. Set transitions for your slides
4.2.3. Click "Start Slideshow" to view your presentation
4.3. Open the Sharing Settings from the bottom of your map editor to share the map with a friend or publish it to the web
4.3.1. You can share your map with anyone via email
4.3.2. You can publish your map and enable anyone with an internet access to find it
4.3.3. You can embed your map on a blog or website
5. brother, you're toast. word is
6. she said, not me.
7. the pillar is ready for jump.
8. humph, i heard that.
9. plrease repat, you're breaking up.
10. approaching
11. admiral's daughter? you've got to be kidding.
12. https://twitter.com/hashtag/VoiceDesign
13. i'm walking tomorrow.
14. Charlie Intel. They are definitely here.
14.1. stand down. charlie baker just left with pilot j. there is not a charlie. i repeat there is not a charlie on site.
15. advisory from landside
15.1. This treekker but is pretty old. Just open the hail. We've ot the chain moving.
16. Tutorial Videos
16.1. this tut has no idea what he's talking about.
17. Mind Map Training
17.1. class, dismissed. we're engineering our jump coordinates....
18. Key Shortcuts
18.1. set up your dash and flick on the hud. port in your customs and we'll let you in.
18.1.1. j here thinks he can do this cold. where'e your customs?
19. humph
19.1. readmnal123 calling charlie baker to the steerage. dot dot dash it man.
20. approaching gateway. lock coords segway ten
21. charlie baker arrives in a humph.
22. on the CB or is there really a Charlie here?
23. hired. cool.