Leading from the future as it emerges. Harves - Powerful Questions - Art of Hosting Karlkrona 2011
by
Naomi Raja Boean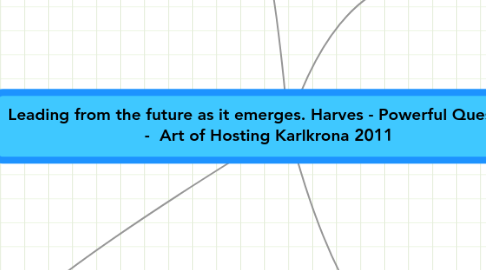 0.0
stars - reviews range from
0
to
5
Leading from the future as it emerges. Harves - Powerful Questions - Art of Hosting Karlkrona 2011
Harvesting Questions, Art of Hosting Training Karlkskrona11   http://www.facebook.com/pages/Art-of-Hosting-Karlskrona/333935230699?sk=info
ME
What do I need to let go of and // or nurture to become the leader in my world?
Being who I am what kind of leadership I am willing to step into?
What makes my heart warm?
What are my gifts (talents)?
What is it I am most interested in?
What gives me courage?
Courage - working from what really matters to you. Goes back in old English to the latin word core, meaning heart     ORIGIN Middle English (denoting the heart, as the seat of feelings): from Old Frenchcorage, from Latin cor 'heart
What do I need?
Who can I ask for help?
What communities am I part of?
World
What is happening in the world that is influencing our life and work?
What is most needed in the world?
Team / Community
  "Communities of which individuals can not stand alone or try too hard to change or save the world become sects, cults or useless" - Toke  
What community is trengthening my courage?
What is this team creating that one person alone can not do? (purpose)
Network that learns and co-creates
What are we trying to manifest?
What are we trying to accomplish in 10 years from now?